POI Report Reveals Too Many Companies are Still Unsatisfied with Their Trade Promotions
According to the 2016 POI TPx Vendor Panorama, only 21% of companies have some satisfaction with their trade promotion management. That leaves a whopping 79% that are unsatisfied.
In the POI's survey, areas of frustration for many companies include: qualified personnel, true collaboration, stagnation at the transactional level, technology, change management, best practices, and appropriate support. This reveals that while much has changed in the last year, much has also stayed the same.
The Opportunity is Open to Move Forward
According to POI, 93% of their survey respondents said that the "entire process of creating a promotional plan, from budgeting to planning to execution to settlement to post event analytics, takes a burdensome amount of time."


Advancements in Trade Promotion Optimization focus on improving both organizational productivity and trade marketing profitability. As a result, optimization also stirs up any stagnation at the transactional level by eliminating errors and improving informed decision making. A TPO solution can provide clear and accurate visibility to your historical promotional performance, enabling you to devote your valuable time and resources to analyzing and improving future planning.
However, the POI report warns that companies need to be cautious that any solution does not simply expand already cumbersome practices. "Adding spreadsheets to compensate for inadequacies in your system of choice only adds cycle time, complexity, and the possibility for errors."
A Trade Promotion Optimization solution should have robust capabilities allowing it to be the intelligence center for all trade activity. Among those capabilities should be data harmonization, accurate post-event analysis , quantifying future ROI and predicting optimal plans at the product, event- or customer plan level. A TPO system shifts thinking from an event manager to an analytical insight driver. As the POI report reveals, "Deeper analytics, better user experience, and capabilities for optimizing promotions through predictive models are key differentiators that are highly sought after."
Turning Insight into Action
Amazingly, optimization not only can solve several of these issues on its own, but it also fosters true collaboration between manufacturer and retailer. "85% of survey respondents said that they have issues with getting retailers to execute promotional plans as agreed upon. Better tools that can show promotional outcomes and their financial impacts on both parties can help to reduce this level of noncompliance by increasing retailer 'buy-in.' "


By giving manufacturers the ability to analyze and optimize promotional plans accurately at all hierarchy levels (including category data), accurate joint business planning with retailers is fostered as a result of looking at a real-time view of the truth. This leads to a win-win planning environment between the retailer and manufacturer mutually designed to maximize the significant trade investment.
Availability Does Not Mean Acceptance
POI notes that "getting people to embrace change is critical." It's important to make sure that everyone is one the same page by explaining the long-term benefits of the change. Some may be resistant to an analytical mindset because they are afraid that technology will take their job. However, an analytical approach will empower those qualified people, giving them more time to analyze rather than spend that time compiling data. The results are better post analysis decisions and more accurate future plans, significantly increasing the ROI on the trade investment.
That said, user adoption is the most critical objective of implementing a TPO system in your organization. POI says, "Therefore, the user experience should trump all other considerations, including low price points and promises of easy integration."
The Takeaway
There's a good chance you fall in the 79% of manufacturers that aren't satisfied with their trade promotions. That's too high of a number given the advanced technology available. The POI Report reiterates that "We still see a large number of activities that are done in spreadsheets instead of through a system." This is a choice that limits insight, drains resources and misses opportunities that far outweigh the investment in a Trade Promotion Optimization system.
With this in mind, it's time to look beyond what has always been done to what is truly possible.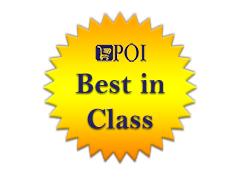 What to read next: 3 myths holding your trade department back from trade promotion optimization