Entering the final quarter of the year, many CPG finance executives are balancing evaluating key performance indicators to explain this year's business while also reviewing the 2017 budget and projections. Furthermore, as we have stated in previous posts (see Not my job? Or is it? More CFO's are leading analytics initiatives.) the role of finance in managing revenue and overseeing trade investment continue to evolve.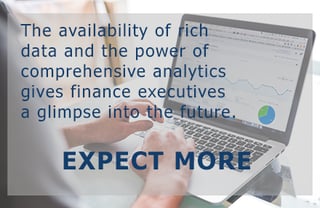 No longer can the #2 line item on the P&L be earmarked as an acceptable loss because the availability of rich data and the power of comprehensive analytics gives finance executives the glimpse into the future that should be leveraged to challenge spending allocations, drive incremental revenue & profit and clearly align trade plans with corporate strategy.
With this in mind, as organizations start to adopt a Trade Promotion Optimization mindset driven by analytics, finance executives should start to expect the following from their trade marketing/promotions teams:
1) A better overall understanding of the health of the business
Typically annual plans are created based on best estimates rather than fact-based assertions. When trade departments have accurate analytics to not only understand the historical performance of planned promotions, but also the predictive capabilities to quantify future performance, there is a clearer picture of how trade investment will influence overall business profitability and growth. Furthermore, a sophisticated analytics solutions will provide an accurate and timely visualization of the base for trend analysis and volatility warnings. Without this intelligence, companies are left with the "we hope" explanation to stakeholders that leads to justifying missed performance measures.

2) Confidence in the agility of the marketing team to shift tactics, correct adverse results, evaluate risk and optimize opportunity.

According the McKinsey & Co. post, "Winning in consumer packaged goods through data and analytics", "Winners make bigger and more frequent adjustments to their SKU portfolios and are more likely to weigh profitability, feedback from the customer and sales team, and supply-chain complexity in making SKU additions and deletions." With this analytical approach to trade investment alignment to company initiatives is driven by action derived from intelligence. Trade marketers no longer have to feel trapped by not being able to produce quantifiable performance metrics or blind planning. Similarly, finance executives can rely on the cross-functional communication between marketing, sales and finance focused on incremental revenue and profit to accurately influence their financial assessment and decision making.
3) Results! Increased Revenue, profit, volume.

There is much hype around bringing data and predictive analytics to Consumer Goods companies that the results are buried. While gains in efficiency, usability and intelligence are valuable internally, without a measurable effect on the bottom line, these initiatives can simply mask other issues. Having a solid analytics foundation paves the way for better results, but couple this insight with constraint-based predictive modeling and you allow your trade marketing team to create optimized events and plans that meet and exceed the goals for your organization without compromising budget restrictions.
CPG companies need to expect more from their trade investments because it is now possible to measure results and influence the future. When finance prioritizes quantifiable analytics-driven expectations in the financial review, the rest of the organization stands to benefit with direct alignment to company growth, increased visibility into their own work and empowering functionality to control the results.
Next steps: Download our e-book How to Optimize Your Trade Promotions