Data-driven. Analytically-informed. Advanced customer analytics. Strategic intelligence.
These are the catch phrases lining both the job postings and board rooms of today's leading CPG companies as they navigate the competitive industry landscape searching for better investments and decision making focused squarely on predictable, strategic revenue growth.As a result, the emphasis on being analytically savvy has pivoted from having analytical capabilities –turning available data into usable information – to being analytically excellent – acting on this information for accurate intelligence, strategic decision making, and predictable revenue management.
This transition has raised some new expectations of analytics and insights leaders:
1) An increased demand for accuracy
According to the Consumer Goods Technology State of Trade Promotion Management report, "Not a single respondent indicated that they are completely satisfied with the quality performance of their analytics." This troubling revelation infers that we must improve the processes and data quality that we use for modeling, interpretation and outcome forecasting. In the area of trade promotion, there is significant opportunity, with the integration of a Trade Promotion Optimization (TPO) solution, to eliminate hands-on data compilation and modeling in favor of automated harmonization, baseline smoothing, lift-curve generation, and predictive modeling.
This standardizes the process and builds the foundation for accurate and timely analysis.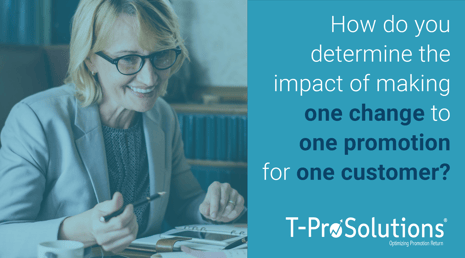 2) A reliance on analytics to drive action
"Gartner's predictions [that Sixty percent of CMOs will to cut their marketing analytics departments by 50% by
2023, due to a 'failure to realize promised improvements,'] are in line with a recent Kantar study showing that
marketers are having trouble determining marketing performance and missing opportunities for growth,"
according to the Marketing Dive article, "Why Gartner expects CMOs to cut marketing analytics units in half."
This means that as analytics leaders it is not enough to just calculate KPIs, but to combine these
metrics with predictive capabilities that allow us to see how we act to improve the outcome.
For example, how do you determine the impact of making one change to one promotion for one customer? If we cannot apply our analytical insight to build an accurate and realistic answer to this question, then our analytics will continue to simply be a snapshot of the past that we use to justify poor investment.
Instead, using the predictive analytical capabilities of a TPO solution to apply the analytical modeling to test scenarios or promotional combinations and the constraint-based modeling functionality to optimize outcomes aligned with business objectives shifts our organizations from passive observers to action drivers.
3) Understand and evaluate the dynamic relationships to impact outcomes
Wall Street Journal CIO Journal contributor and former IBM AI leader, Irving Wladawsky-Berger, writes in the article "Beyond Machine Learning: Capturing Cause-and-Effect Relationships" that the benefits of AI include the ability to: "Continually updated with new data reflecting changing conditions, easier to explain how a decision or recommendation was made, and to help capture cause-and-effect relationships."
For analytics leaders, this information means that we must not only be agile with our understanding of the business, but also provide the comparative visualization to see the relationship between the decisions that we make.
TPO solution capabilities put the ability to understand and forecast the impact of investment decisions on both our business and our customers at our fingertips. Furthermore, machine learning capabilities ground this work to immediately account for trend fluctuations and anticipated disruptions. The opportunity to then compare the current state to other iterations makes decision making aligned with organizational priorities an analytically supported process.
These evolving expectations raise the bar for analytics as central to building and executing the growth opportunities. Doing so requires letting go of many of the manual responsibilities that have defined analytics roles within organizations. This will open the door for both the validation of the significance of analytical intelligence, but also the shaping of an analytically-driven growth strategy.