Today's Consumer Goods IT Leaders are expected to be aligning technology investment with business objectives. Doing so requires them to balance expense, resource demand and implementation risk with organizational improvement and revenue potential. With such a saturated inbox and plentiful decisions to make, how do IT leaders discern what projects that are truly worth their time?
In short, when a project is aligned to corporate objectives, the potential impact gets amplified.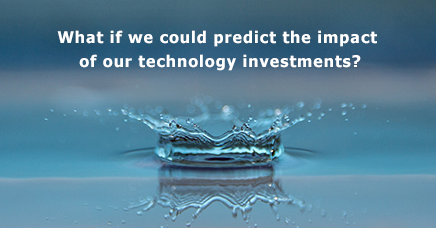 A key factor contributing to that impact is predictive analytics, such as Trade Promotion Optimization (TPO), which not only improves processes, but decision-making as well due to its user adoption rate, minimal resource necessity and optimal end results.
Broken down below are three key factors that set predictive analytics apart as a true contributor for success:
1) Data usability
Historically, companies have invested in data, rightfully so, to better understand both their customers and their business. However, many companies have not had the necessary technology to make the data useful in a timely manner.
As a result, IT leaders are taking a hands-on approach to changing this data backlog. To do so, they should not only prioritize adopting a solution that can accurately analyze data in real-time, but also how to take the understanding of this analysis and use it to improve outcomes.
With Trade Promotion Optimization, for example, shipments, spending and POS data are cleansed and harmonized into one central intelligence hub, where it is then used in post-event analysis, predictive planning and optimization.
2) Outcome predictability
It's important to consider when looking at technology how it makes what is already being done easier and how it allows people to do what couldn't do before.
By prioritizing predictive analytics, IT leaders are directly influencing how decisions are being made. Companies spend less time compiling and cleansing data and more time analyzing and making valuable impact in their organization. As a result, decision-making becomes a focus rather than a side note and companies become more strategic in their planning.
Furthermore, when an IT leader introduces the power of constraint-based modeling with an optimization solution, companies can optimize outcomes and make complex possibilities both a manageable and profitable reality.
3) User adoption
While the right predictive analytics solution will make results easy to see, compare, recreate and share, it's only beneficial if teams use it. For user adoption rates to be high, IT leaders will need to partner with end-user management teams to structure the technology initiative to coincide with business processes and thus limit the effect of disruption.
Predictive analytics and, in particular TPO solutions, encourage user adoption thanks to taking existing information processes and applying them in easy-to-manage ways to create better results. In short, the reward is seen immediately and far outweighs any temporary disruption.
With the significant amount of projects sailing down the IT pipeline, it's difficult to sift through -and find the ones that carry the most valuable cargo. However, making future results matter begins with answering the "what-if" that has made strategy investments, especially in the areas of trade promotion and technology, simple guesses in the past. With a quantified return on both technology and trade investment, prioritizing predictive analytics and optimization capabilities can be the crucial link between IT and organizational objectives that drives future growth.