While improved, measurable trade promotion performance and planning capabilities are highly desirable by today's CPG companies, Trade Promotion Optimization is still a concept that leaves organizations skeptical about the ability to produce results.
Rightfully so. Many of the promises surrounding optimization are connected to improvements to the transactional capabilities of existing trade promotion management systems. The result has been large,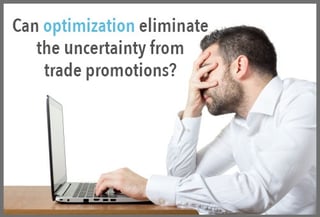 customized projects requiring significant investment with undefined completion dates and no measurable results. In this way, optimization has fallen to a theoretical "nice to dream about" instead of the practical and powerful solution that it can be today.
It's time to redefine optimization
The technical functionality for a trade marketing team to optimize their post-event analysis and planning capabilities exists, but to begin to see the results we must rethink how we define Trade Promotion Optimization.
Trade Promotion Optimization is the ability to apply integrated, cleansed data and constraint-based modeling to analytically predict the event, combination of events or promotional plan that will yield the optimal results based on organizationally defined KPIs.
Breaking down the parts
For accurate, functional, quantifiable results from a Trade Promotion Optimization solution, the following capabilities are a must.
Data-cleansing and harmonization
When it comes to data, garbage in equals garbage out. This is why the ability to harmonize disparate POS, shipment, and spending data in a single intelligence center is critical to ensuring the quality of data and accuracy of baselines and lift-coefficients. This, in turn, leads the way to more accurate post-event analysis and actionable and informed historical performance data.
Quantifiable ROI
When you are capable of timely and accurate post-event analysis, you can shift from reconciling transactions to a more analytical mindset of quantifying performance. Unlike traditional trade promotion management systems to rely solely on syndicated POS data, trade promotion optimization's cohesive integrated data allows for real-time ROI and KPI measures. In this way, trade promotion no longer has to be an acceptable loss and can become a tactical incremental revenue management strategy.
Predictive planning
What good is having information without the ability to use it? This is often the problem of CPG companies who have insight into their trade promotions performance, but lack the predictive analytics foresight to easily use this information in their planning. Optimization is impossible without the ability to predictively plan. Doing so allows for a comparative look at historical and predictive lifts, can determine forward buy and calculate incremental revenue, profit and volume for manufacturer and retailer. While what-if scenarios are not new to trade promotion planning, the increased accuracy of the data and power of predictive modeling provides users with greater data insight about planned events and the ability to create a library of scenarios to build an annual plan.
Constraint-based modeling
What separates Trade Promotion Optimization from some of the "shot-in-the-dark" planning scenarios that companies may be used to, is the ability to apply constraint-based modeling to predictively optimize events and plans. In this way the user defines the constraints – volume, profit, revenue, promotion type, contractual obligations, budget, key promotion dates, black out dates, ideal promotion mix – and lets the solution configure the optimal event or plan.
The art of the possible
Optimization of trade promotions post-event analysis and planning is no longer a what-if for CPG companies. Today, companies can be gaining real-time insight into their trade promotion performance and can use this insight to strengthen their planning and reap better results in as little as 8-12 weeks.
The failure to rethink the function optimization as a central feature of trade marketing means lost opportunity for companies. However, beginning on your journey to optimization means making sure that you are getting what you need to achieve the results you want. Trade Promotion Optimization solutions without the above capabilities may have you living in the trade spending nightmare instead of making the dream of a maximizing the return on trade spending come true.
What to read next: Making Metrics Matter: 6 data points you need from a TPO