In order to ignite a fire, you need a catalyst. In order to ignite your trade marketing program, you need to find the right spark. Finding the right catalyst will improve productivity, empower employees, and provide measurably better results. This in turn boosts morale and profits.
The discovery of fire changed humankind forever, so imagine what a little spark can do for you.
Here are 4 ways to get started:
1) Reduce spreadsheet dependency
Many companies still resort to manually entering data into Excel spreadsheets. In fact, POI says in their 2016 Vendor Panorama, "Adding spreadsheets to compensate for inadequacies in your system of choice only adds cycle time, complexity, and the possibility for errors." However, spreadsheets are no longer necessary due to the advent of new technologies that can compile, cleanse and integrate data in real-time. Trade Promotion Optimizations systems harmonize data by compiling consumption, spending and shipment numbers into one, easy-to-use intelligence center in a fraction of the time it takes to enter it manually into Excel. (See Is the spreadsheet a silent killer to your organization?)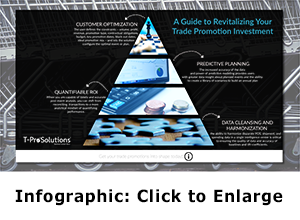 2) Adapt an analytical mindset
To be able to use your data intelligently, you have to adopt an analytical mindset. Modern and innovative methods of data analysis won't flourish without the appropriate nurturing environment. Instead of focusing on individual transactions and disconnected events, focus should be centered around quantifiable performance trends, cause and effect relationships, and accurate predictive scenarios. An analytical focus can turn trade marketing from a necessary expense to a strategic competitive advantage with a quantified return. This objective begins with the implementation of a Trade Promotion Optimization Solution that provides an accurate real-time view of past promotion events and the ability to predictively plan future events for an optimal return.
3) Communicate and embrace change
Adoption of an analytical mindset is a drastic change to many organizations (See Optimization is more than a trade promotion's practice; it is an organizational shift). With change comes a need to communicate with your team to make sure the change has the intended results. Open the dialogue about what the change should accomplish. Are your goals for trade promotion centered around productivity, efficiency, profitability or a blend of all 3? These objectives, as well as other organizational aspirations regarding your trade spend, make up a healthy dialogue that you will want to engage your team in. Understand their concerns and help them see the benefits ahead. And this should not be something that you should have to do alone. Use the expertise of your solutions partner to introduce, train, manage and improve adoption and acceptance.
4) Best practices
Again, in their 2016 Vendor Panorama, POI notes that "the POI 2015 Survey found a wide disparity between expectations for best practices and what was actually delivered."
Unfortunately, many solution manufacturers have invested in solutions only to be disappointed in the results. That's why seeking out a solution that is built from industry expertise and has an emphasis on best practice is key. Not only are you going to want fast results, but you're also going to want continuous improvement and in order to accomplish this, there has to be a partnership between manufacturer and solution provider that focuses on achieving a goal from the start of conversations by means of implementation, training and roll-out. It's important that this conversation continues on through use and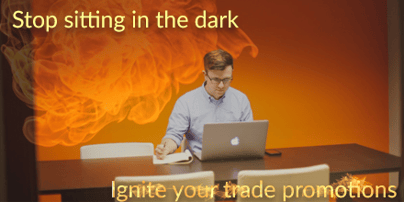 product enhancement.
Don't spend more time sitting in the dark when you don't have to anymore. You're in the position where you have the ability to ignite your trade marketing, so why wait for it to happen on its own when you can create the spark yourself? Again, fire favorably changed the course of humankind and thus proactively setting about creating a spark on your own can favorably change the course of your trade marketing.
What to read next: 4 Must-Haves to Achieve Trade Promotion Optimization