The CPG industry is changing. With the continuous loss of brand loyalty and the rise of online shopping, in-store promotions are more critical than ever. As a result, more manufacturers have a heightened sense of urgency to optimize their trade promotion investment. More specifically, manufacturers want to adopt analytical capabilities that will enable them better decision making to achieve their revenue management objectives. In many companies it is not uncommon to confidently know what is working and what is not regarding their #2 line item expenditure. Unsurprisingly, this scenario normally results in a negative return on investment and falling behind competition.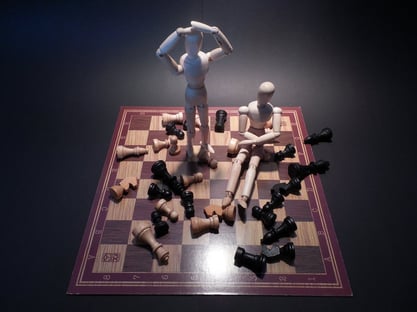 While making a digital transformation may be a wise step to take in addressing these challenges, it's important to recognize that it also asks employees to change their way of thinking. Trade promotion, being managed primarily by sales people, is an inherently difficult area when it comes to change. It is not uncommon for the sales force to push back on any change that involves leaving their easy-to-use spreadsheets. When making the decision to transform from a "copy and paste" transactional approach to an analytical approach with trade spend management, it is imperative to have C-level management supporting that change.
According to the Harvard Business Review article, "5 Ways to Help Employees Keep Up with Digital Transformation" by former CPG leaders Deb Henretta and Anand Chopra-McGowan, "From our view and experience, what underpins the success of these new ideas and approaches is the abilities, skills, and mindset of the company's workforce."
Evolving analytically with technology (such as a TPO solution) can remove obstacles that block employees from driving results. Thanks to decision making improvements via automation of data compilation and harmonization, pressure is alleviated by allowing teams to spend more time analyzing and to see the direct impact of their decisions. But these benefits will be overshadowed by digital culture shock if companies don't take the initiative to guide and support their teams throughout the transformation.
The article's authors go on to outline how CPG executive leadership plays a role in smoothing out digital transformation within their companies. With that in mind, to be able to fully reap the benefits of a technology solution and to empower employees to their fullest, you'll need to be able to provide necessary support in the following ways:
1) Getting down in the trenches
First and foremost, CPG executives will need to get their hands dirty by directly involving themselves in change management from the start. This means being a part of the adoption process by sitting in on initial demos and understanding the overarching ways in which a solution affects the business. Furthermore, executives will need to promote an open-minded environment that thrives on experimentation and autonomy. Some employees may be reluctant to try unfamiliar methods, however, cultivating a sense of positive discovery will help them better adapt and use new skills to drive results.
2) Remove barriers to insight
When employees only have one tunneled view of their decision-making results, it prevents them from seeing a bigger picture that should affect the decisions they make. A multidirectional view based not only on an area of expertise, but also an area of influence ensures that insights are being used to their full potential in the decision-making process. For example, when a trade employee sees their area of in-store promotions and also the effect that consumer marketing and competitor information intelligence has on their promotional events, they can make better decisions to yield better results. However, making these best practices part of everyday business will require both access to the insight and the encouragement from leadership.
3) Embracing agility
For a digital transformation to be successful in a CPG company, the ability to pivot quickly is necessary. With the rapidly changing consumer world, the environment can change seemingly in an instant, meaning that companies who fail to be agile in adjusting plans quickly set themselves up for a last place position. Having access to a library of scenarios and predictive capabilities allows teams to adjust plans as needed to fit the changing tides and improve results. C-level leaders can enable this by encouraging their employees to be part of the strategy development process and communicate effectively across departments to create and tweak the best plans to meet corporate objectives.
4) Enhance employee experience
As mentioned above, some employees may be reluctant to transform their role due to an "if it's not broken, don't fix it" mentality and a comfort in the old techniques. But a C-level understanding of employee motivation and thought process allows companies to support employees and assist them in the transformation in a way that makes them confident in new methods and thought processes. Gartner recommends in their Market Guide for Trade Promotion Management and Optimization for the Consumer Goods Industry, "Clearly define the roles within your organization, and incentivize them accordingly. Choose a solution that will marry functionality and usability with your workforce deployment intentions. Consider breaking the mold of your current approach, and focus analytical resources on analytics and sales resources on sales."
5) Embrace continuous learning
Finally, with digital transformation comes continuous learning. Again, the rapidly changing consumer environment requires keeping up to speed with new skills and technologies. Companies who fail in improving and honing employees' new skills will not see the full results of implementing an analytics solution. However, continuing to work on skills means seeing better performance and better results on a smaller level, which then translates into business growth and innovation on a larger scale. A company's solutions provider should be an ongoing resource for best practices and enhancements that keep up with this change and the needs of the organization.
Transitioning from a transactional to analytical mindset is a big, albeit important, step in today's CPG companies. It will only be successful if trade employees are guided and supported by C-level leadership throughout the transformation. A failure to do so means a failure to keep pace with innovation and realize profitable business growth. It is only by adopting an analytics intelligence platform that CPG companies will separate themselves from their competition and avoid becoming an acquisition candidate.
What to read next: 5 Goals CPG Executives Can Accomplish With a TPO