It is not surprising that the number one indicator of whether a TPx project is successful in improving processes and impacting trade investment results is how the organization manages change. The POI TPx Vendor Panorama reminds us, "Not to underestimate the need for change management."
Yet, for many CPG companies change management often becomes an obstacle rather than opportunity as they struggle to address some crucial questions during the process.
1) What is driving the need for change?
Why this matters: The worst type of change is change for the sake of change. Without a clear understanding of the "why" it is impossible for your people to connect the change with a business impact. More importantly without answering this question people will struggle to embrace how their roles will change or see what the potential professional gain is for them.
2) Who will be involved and at what levels in the change process?
Why this matters: The complexity of managing change to trade promotion management processes lies in the reality that these responsibilities are often cross-functional. As a result, people will rightfully ask, "how does this impact me?" Once the need for change is identified, it is critical that a representative team comprised of all pertinent operating areas is assembled with very defined roles.
3) How will communication be handled during the change process?
Why this matters: One of the defined roles of the team must be to communicate with other stakeholders during the process. It is not possible or necessary to include every person on every decision. However, regular formal and informal updates with stakeholders will eliminate any feelings of surprise or "not being in the loop" when the team goes to roll out any changes.
---

Just starting your TPx Journey?
Read "A Guide to Choosing a TPM/TPO Platform" for best practices on everything from internal collaboration to vendor selection.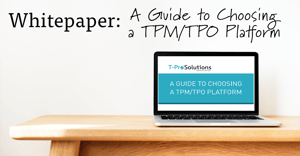 ---
4) How will senior leadership be involved and how can you maintain their involvement?
Why this matters: People in your organization look to senior leadership for direction. Many times, senior leadership is heavily involved at the beginning but as a project moves along, so does their attention. Keeping your leadership team involved throughout the process not only maintains the alignment of the project with corporate objectives, but also communicates to the entire organization that this change is a priority.
5) Will you use 3rd party change management assistance?
Why this matters: Working with consultants or vendor partners provides the opportunity to take advantage of their experience. However, how these people will work with your organization should be a talking point of your project team. Also, it is important that the work done by these groups is well defined with clear handoffs to empower your team to own and sustain the project. Before committing to costly consultant contracts, ask your technology partner what change management and process definition processes are part of the on-boarding process.
6) How will you measure and celebrate success?
Why this matters: When it comes to trade investment some measurements of success are understood as essential – ROI, incremental profit, incremental lift. While understood, before your organization shifts to a more analytical approach to trade promotion investment using Trade Promotion Optimization (TPO) these measurements may have been difficult to obtain - if they were being measured at all. Furthermore, these measures typically were limited to post-event rather than proactively during the planning process. Getting your people to value and use these KPIs and guides of how to plan for the future requires a change in how -they work and think.
Getting to "yes"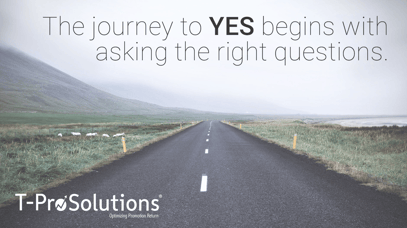 The goal of changes to your trade promotion management processes including better analysis, planning and optimized results
is to get more people to accept and execute within the new process. You want your sales people saying "yes" to a more informed way of planning. You want your trade and finance teams saying "yes" to more accurate analytics and guardrails. You want your leadership team saying "yes" to more intelligent strategic investment. You want your retail partners saying "yes" to more mutually beneficial plans. Getting to "yes" starts with asking the right questions.
Make sure to look for our upcoming post where two CPG veterans share their answers to these questions and how they were part of the teams that helped move their organizations to say "yes" when making the move to TPx.