By now, finance professionals have recognized the growing importance of data to their business. However, recognizing this is not a big enough step to advocate for any real change or see any results. The reality is data needs to be combined with advanced analytics to see results. Not only can analytics transform business operations and performance, but they also can transform the role of a finance professional itself. For CPG companies, this means better practices and promotional performance with finance professionals at the helm of analytical leadership unifying sales, trade and finance with clear objectives and guardrails to achieve optimal success.
The Importance
According to an article, "Five Ways CFOs Can Implement Advanced Analytics," by Viral Chawda on CFO.com, "Institutional investors and equity analysts are now weighing companies' D&A strategies as part of their valuations, according to a 2015 report by KPMG."
Due to the volatility of the CPG sector in terms of mergers and acquisitions, having an analytics strategy which contributes to revenue generation adds substantial value to a company. Conversely, a company lacking an analytics strategy becomes vulnerable to an undervaluation and potential premature acquisition.
The transformation to adopt analytics as a strategy to guard and grow an organization isn't as daunting as it may seem. When finance professionals become analytics leaders, the result is improved decision-making that promotes better efficiency, growth and an innovative environment.
"Having an analytics strategy which contributes to revenue generation adds substantial value to a company."
But to successfully take on this operational change, a finance professional will need a way to organize data, perform timely analysis and apply resulting insight to future decision-making. Trade promotion is an area ripe for this transformation due to historically inaccurate data and processes in an extremely mature sector. Solutions such as Trade Promotion Optimization provide the necessary capabilities a CPG finance department will need as the analytics driver of their organization.
With that in mind, here are the ways in which adopting an analytics mindset, supported by the right solution, can improve the accuracy, depth, timeliness and value of responsibilities that finance already has in order to unite sales, marketing and finance around a common revenue management strategy: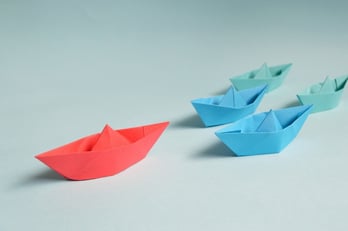 Volume Forecasting and Analysis
It's no secret for a finance professional to use historical data when it comes to financial forecasting and analysis. However, more than that, finance professionals need to be using this data to detect early signs of change so they can pivot accordingly.
The article notes that "Advanced analytics can help mine internal and external data to get a holistic view of customers, competitors, suppliers, partners, and employees, ultimately helping to manage business performance at granular levels."
For finance leaders managing trade investment, this "holistic view" of trade promotion activity as part of a TPO Solution provides centralized intelligence of historical performance. With features such as a master calendar view, finance professionals can conduct important post-event analysis with a historical view of past promotional performance. This view is essential when planning similar future promotions since it can show whether it worked before, what tactics are most effective, how consumer or competitor events influence performance, and quantify the ROI of promotional events.
After gaining intelligence, it's time to apply it by taking a better view of the past and combining it with predictive modeling to build a better future. It starts with the ability to compare objectives and budgets to planned activity and empowering users to think more openly about the pieces that drive results.
"When finance professionals become analytics leaders, the result is improved decision-making
that promotes better efficiency, growth and an innovative environment."
This is achieved in an accurate plan rollup as part of a TPO Solution. With this, finance professionals can see all planned promotions and when they will run in comparison to their budget. This also allows them to make key adjustments as needed. A what-if scenario builder also allows them to build individual events so they can choose what is actually the best one rather than guessing. Furthermore, a trade calendar builder allows for the testing of different promotional mixes that are built in the what-if scenario planner.
This ability to predict promotional lifts that comes with a what-if scenario planner and trade calendar builder results from the power to both model historical data and apply predictive analytics to model the possible future.
Budget Planning
Chawda states in his article, "[Data and analytics] optimization techniques effectively translate business rules into mathematical formulas that can be used to create dynamic budgeting and forecasting scenarios."
With constraint-based optimization in a TPO solution, annual plans can be created with budgetary guardrails in place. Approaching trade promotion planning from this optimization mindset is critical to create the focus on growth.
Trade Promotion Optimization supported by a TPO solution allows users to define the criteria and let the system perform the math to determine the best tactic or promotional mix. This is important in looking to get the most current promotions and in taking a data-driven approach to promoting new products.
In this way, adopting an optimization mindset supported by a TPO solution makes budgetary planning about strategizing for opportunity rather than to avoid loss.
Predicting Disruption
It's not uncommon for disruption to occur in the CPG industry. It affects the promotional plan in ways such as shelf space reduction, supply chain issues, recalls, turns in the economy and mergers. All of these instances distract from the promotional plan execution.
"Amid today's disruptive environment, CFOs need the help of 'extended intelligence' — tools that will help them see around the corner to emerging trends and potential threats." States the article.
To avoid the harmful effects of disruption, future baseline modeling is possible allowing for more accurate predictive planning despite the unexcepted. A financial professional can model how strategy is affected by shifts in the market and use this intelligence to plan against. Even in situations where the disruption is unexpected or comes in the form of a reallocation of spending to trade, making data-driven decisions with sales and marketing positions the organization to be agile and best reach objectives.
The New Direction
With this in mind, a finance professional shouldn't fear a new direction for their business. Taking on new analytics initiatives provide the necessary opportunity to advance in an industry that has been stagnant for too long. Thus, becoming data-savvy is crucial for those businesses wanting to stay ahead of the competition and achieve the results they've never been able to see before.
What to read next: Trade Optimization ROI will be Measured in More than Just Dollars and Cents