As part of the 2018 Promotion Optimization Institute's Fall Summit, Tony Pfennig, Kellogg's, and Joe Kent, InnovAsian, participated in a panel discussion to share the change management best practices and learnings from their organizations' journey to TPx. Below is a summary of their responses as a follow up to the original blog post "6 Questions Consumer Goods Organization Must Address to Succeed at TPx Change."
3 Guiding Principles
During their panel, Tony and Joe identified 3 key elements that they believe leads to successful TPx Change Management: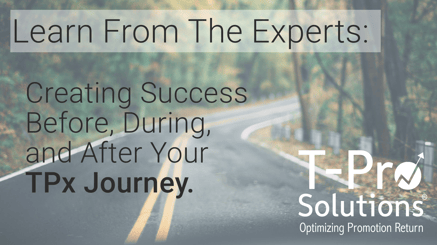 1) Training, Training, Training and more Training
2) Get the basics done first:
Data Quality
Accountability of Incremental Success
Results-based Incentive for Change
3) Communicate and Celebrate
Creating Success Before, During and After
They also provided insight on these critical change management questions that organizations must address when evolving their Trade Management and Optimization capabilities:
1) What is driving the need for change?
Why this matters: Without a clear understanding of the "why" it is impossible for your people to connect the change with a business impact.
What our experts say:
People are afraid of any change and our job is to make it easier
You need to lay out not just the outcome of the change, but the process of how we are going to get there and what is driving that change
Sometimes it is pressure from Wall Street. Sometimes it is a failure to move the needle. Sometimes it is a realization that what you have always done just doesn't work any more.
2) Who will be involved and at what levels in the change process?
Why this matters: People will rightfully ask, "how does this impact me?"
What our experts said:
You have to have somebody leading this change. It will not work without it.
This allows you to "sell" your own people on the need for change and overcome any reluctance
From the leadership to the user – everyone has to be all in. The only way to do this is to make sure that all decisions are fact based.
3) How will communication be handled during the change process?
Why this matters: Regular formal and informal updates with stakeholders will eliminate any feelings of surprise or "not being in the loop" when the team goes to roll out any changes.
What our experts say:
You have to have a cadence of regular monthly/quarterly communication before, during and after any change
You must address the fear by tying all change back to results backed by data. This includes talking about the mistakes to avoid compounding them in the future
Be open and agile. There are times where you need to pivot to enhance and outcome. Without communication, these growth-minded changes can seem like contradictions that undermine your cause.
4) How will senior leadership be involved and how can you maintain their involvement?
Why this matters: Keeping your leadership team involved throughout the process not only maintains the alignment of the project with corporate objectives, but also communicates to the entire organization that this change is a priority.
What our experts say:
You often have to remind them to be patient. No change happens overnight.
Directly involve them in setting the accountability expectations and provide regular fact-based updates as to progress.
Remind leaders that the business is moving so quickly that not making a change is actually the biggest risk.
5) Will you use 3rd party change management assistance?
Why this matters: Working with consultants or vendor partners provides the opportunity to take advantage of their experience. However, how these people will work with your organization should be a talking point of your project team.
What our experts say:
More important than 3rd party project management is regular training. If this is best served by a solutions' vendor or consultant then go that route.
Someone internal must own and lead the change.
Knowing what you need help with should come first and how this help provides the least restrictive path to success. For example, can your vendor partner or consultant own the data cleansing and harmonization piece?
6) How will you measure and celebrate success?
Why this matters: Getting your people to value and use fact-based decision making in how they think about the planning and analysis of trade promotions requires a change in how we work and think.
What our experts say:
You MUST incentivize the use of data and tie the results directly to a bonus structure
Get little wins up front and celebrate them
Make sure that everything you do goes back the to overarching goal. Whether it is a revenue number or a cost-savings number, your people always need have a fact-based understanding of where they stand in comparison to their goal and the tools to make changes if necessary.
The background:
Tony Pfennig is Director of Global Revenue Management for Kellogg's. As a multi-national, multi-business unit organization, many of the challenges regarding change management revolved around consistency of message from corporate throughout the business unit and making sure that fact-based decision making was the foundation of their Revenue Growth Management strategy. For Kellogg's this meant adopting timely, accurate and efficient post-event analytics driven by automated data harmonization to provide and true picture of their business and inform future planning/investment decisions.
Joe Kent is VP of Consumer Brands for InnovAsian Cuisine. As a growing brand and food manufacturer, InnovAsian prioritized making better promotional investment decisions to ensure that their strategy was what was best for their organization and retail partners. The ability for their trade and sales team to understand what was working and what was not and then predictively apply and optimize this insight to future customer planning changes the conversation to how they can reinvest in the business.