Retailers are investing time, money, and human resources in creating analytics teams to not only better understand buying decisions in their stores, but also to make more informed decisions to enhance product and category performance. In fact, a report from McKinsey and Company (Playing catch-up: How to partner with the retailer of the future) suggests that, "The top ten US retailers now have an average of almost 70 big data analysts on board."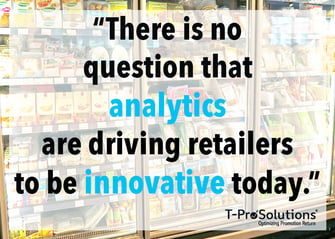 So why should manufacturers care? "Almost all retailers can now gather and mine valuable data when consumers use loyalty cards or shop on retailers' websites, thus diminishing the value of the data that CPG manufacturers provide" states the McKinsey and Company report.
In other words, the prioritization of analytics-based actions on the retailer side is putting an additional strain on the already volatile relationship between manufacturer and retailer. Couple this with the fact that the majority of CPG companies view data quality as an issue due to lengthy and error-prone manual consolidation, and sales teams are left with very little to bring to negotiations with retailers.
And preparation is the key. The McKinsey report indicates "Many key-account managers are career salespeople who rely on personal relationships with individual buyers and aren't well versed in big data and advanced analytics." By no means does this imply that these experienced individuals are unqualified to manage this evolving relationship.
Instead, trade promotions, trade marketing and sales teams need better access to accurate, timely and relevant data points to focus the conversation in a mutually beneficial way. (See "6 data points you need from a TPO")
Driving the change
CPG Manufacturers can quickly adopt practices to empower their teams in communications with retail customers and improve trade promotion performance.
Quantify ROI and KPIs
Many problems of the past exist because retailer and manufacturer performance was either not being measured or only reflected consumption data. The ability to quantify the ROI of a single event, a category plan, or even an overall customer plan in real-time using integrated POS, spending, and shipment data manufacturers shift the conversation from what we think to what we know.
2. Align Sales and Marketing with Analytics
As splintered as the relationship between retailer and manufacturer is, internally, similar disconnect exists between many sales and marketing teams. The introduction of analytics into the equation means that we can more realistically determine the art of the possible and align this with actual performance objectives and results. The right tool can combine data insights with planning ease to promote more informed decision making and to collaboratively assess promotional tactics and develop optimal promotional strategies.
3. Predict Manufacturer and Retailer Performances
The overarching concern of both manufacturer and retailer is that you must take from one for the other to be successful. However, with the introduction of a trade promotion optimization solution with predictive analytics, we cannot only see one-version of the truth when it comes to promotion performance, but we can also see the both projected retailer and manufacturer revenue and profit for planned promotions. Armed with this data, retailers and manufacturers can focus on how to optimize execution for mutual optimal results.
The McKinsey and Company report continues to offer a very specific model for organizations to shift tactics with retailers. A key component of this model is the fact that "a CPG company must be able to generate insights that aren't simply descriptive or explanatory, but predictive and prescriptive—offering fact-based answers to the questions, "What will happen?" and "What should we do to get the most benefit out of what will happen?"
There is no question that analytics are driving retailers to be innovative today. Manufacturers must prioritize similar initiatives within their organization or risk widening the gap with retail partners, losing out on market share to competitors who are making data-driven decisions, and missing opportunities to drive revenue in a time where growth is hard to come by.
What to read next: Solving Analytics Mysteries with Innovation