As companies begin to overcome the perception and technical objections related to addressing trade investment with an analytical solution, sustaining the momentum to ensure adoption and begin to see results becomes an ongoing necessity.
Although there are always some challenges that will occur, "how you address these issues is what is important," explains Dr. John Stanton, Professor of Food Marketing at Saint Joseph's University. To help alleviate some of these issues, finding a TPO provider that is familiar with the existing TPM or planning system is imperative, along with finding a vendor that is prepared to help you through the implementation and training process.
The solution providers are there to help the process run efficiently and effectively with very few obstacles. Providers should be willing to share advice and best practices based on their knowledge and past experiences.
A significant portion of the training and implementation process should be focused on embracing change. Do not underestimate the need for change management, especially if it means keeping an organization afloat. The Promotion Optimization Institute recommends having a change management plan in-place before implementing a solution. Survey data collected by POI found that 92% of respondents have trouble when deploying solutions to existing users, since many employees are stuck in their current ways of operating.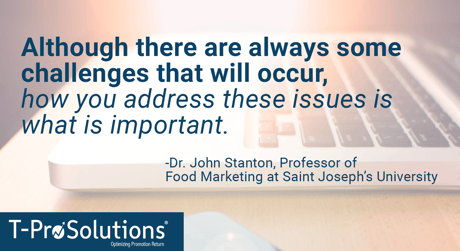 Industry experts suggest that making time for training is a crucial component to a smooth implementation process,
as it is with learning any new technology. Dr. John Stanton suggests that during this training period, it may be helpful
to specify an individual to assist with the implementation, as well as having a one-to-one contact between suppliers
and the client, as this may reduce the risk of piled-on, additional work for current employees.
Solution suppliers should also provide the option for in-person training, allowing employees to ask specific questions about the solution they will be using and for the supplier to give specific answers and examples. Some companies,
like T-Pro Solutions, not only offer in-person training during the implementation process, but also provide an online
help resource for questions that may come up when using the solution.
Dr. Stanton recommends that the entire company be prepared for adjustments and states, "Every company operates differently, so adjustments might be needed to make the system compatible for a specific company. That is why it is
important to select a TPO supplier that recognizes the need to make compatibility a priority."
See how other CPG companies are helping their teams and organization overcome obstacles to quantifiable trade investment success.
DOWNLOAD: Optimizing Outcomes: A Guide to Successful TPx Advancement