"Survey-based reports find that firms are currently spending an estimated $36 billion on [data] storage and infrastructure," according to a Harvard Business News report. The report, "Where Predictive Analytics is Having the Biggest Impact", rightly creates an emphasis on not just the availability data, but how successful companies are using it. In doing so, the authors make several observations that ring true as many CPG manufacturers grapple with the influx of data and pressure to employ data insight in their revenue management strategies.
Observation #1: "The value derived from the analytics piece can greatly exceed the cost of infrastructure."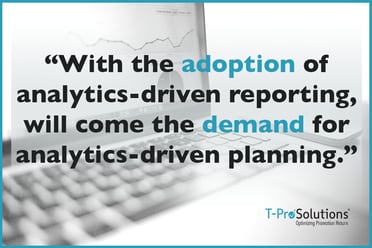 One of the greatest concerns of organizations is the additional commitment of physical and financial resources to implement a predictive analytics solution. In the areas of trade promotions and trade marketing there is already a resource drain created by the intensive manual consolidation and management of spreadsheets. This results in significant delays in analysis insights and often error-prone reporting. The bottom line here is that an infrastructure that can improve processes, eliminate errors and refocus talented professionals on making data-driven decisions adds value to the overall organization. A trade promotion optimization solution should require little involvement from your IT staff.
Furthermore, the right incremental infrastructure investment will be offset by the quantified return on the investment in a TPO solution. This is significant because the return is not a singular payback, but an annualized improvement. Similarly, the predictive analytics component will allow for the optimization of future events for maximum revenue, profit or volume aligning to revenue management strategies. (See "Revenue Management Initiatives Driven by TPO Ignite a Competitive Advantage"). This will also allow for the calculation on the payback time for initial investment.
Observation #2: "Big data is less about size and more about introducing fundamentally new information to prediction and decision processes. The information that matters most when existing data sources are insufficient to provide accurate and actionable predictions."
Historically, CPG companies have relied on the same data and have drawn the same conclusions. As a result, they run the same plans. With predictive analytics, the ability to bring integrated data into the modeling process means that companies no longer have to rely on segregated and often contradictory observations in the planning process. Now, companies can use the historical data (POS, shipping, consumption, competitor, consumer marketing, and other data) to model scenarios that have more accurate predictions about what will work.
Observation #3: "To leverage big data, it is vital to have talented data engineers, statisticians, and behavioral scientists working in tandem."
Fortunately, finding talented people to work with data is an area that CPG companies have prioritized. However, without proper tools these data experts are underutilized and grow frustrated with the limited impact of their actions. The adoption of predictive analytics as part of a trade promotion optimization platform allows for these experienced individuals to both more accurately analyze past performance and use the modeling to make adjustments and test scenarios like they are trained to do.
What will the impact be?
There is no question that CPG companies are harvesting data and are shifting to an analytical mindset that will open the door to a better understanding of internal business performance. With the adoption of analytics-driven reporting will come the demand for analytics-driven planning. When this happens CPG companies will see:
Greater collaboration between retailer and manufacturer as data will lead conversations about joint profitability and

shared

benefit

s

with one version of the truth.




A shift from trade promotion being a revenue necessary evil to a crucial piece of revenue management strategies.
The functionality to achieve these goals is here. As the article states, "it is unclear what the precise use cases are that will drive this positive ROI from big data." A proven trade promotion optimization solution is an application that has immediate ROI turning big data into actionable intelligence.
What to read next: The Future of Analytics is Here: It's Time for a Trade Promotion Optimization Solution