Claims that Trade Promotions and Shopper Marketing are dead overlook the potential of improved practices, new capabilities, and quantifiable results and that Trade Promotion Optimization makes possible.

More intelligent and intuitive technology and evolving shopping practices provide companies the opportunity to innovate outdated practices and assumptions that are no longer making an impact.
Gary Hawkins, founder and CEO of Center for Advancing Retail & Technology (CART) and regular lecturer at Georgetown University, says that these ineffective practices, including trade promotions, should be replaced by adopting a "customer-of-one" mentality.
The Problem
Hawkins, in his two-part series "Shopper Marketing Is Dead" featured in Progressive Grocer states, "CPG marketing suffers from massive waste and lost opportunity,"
This is nothing new. Currently, trade promotions planning is uninformed, and as a result, is highly inefficient and ends up as lost investment. Companies that lack the analytical insight that comes with accurate, quantifiable post-event analysis and the predictive constraint-based modeling to calculate key KPIs and ROI for future promotions cannot determine the impact of promotions on company initiatives.
The Solution
So how do you prevent that waste and loss of opportunity? The answer is simple: Optimization. Trade promotion optimization eliminates the endless cycle of trial-and-error, where companies only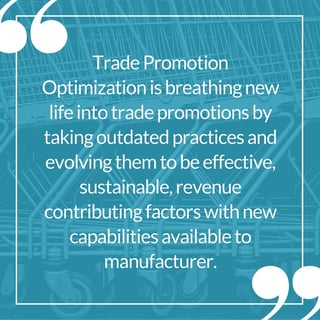 hope to find the best promotional combination.
Improving on what Hawkins sees as lost opportunity bringing us closer to the "customer of one" mentality requires a critical look at how individual events affect the larger outcome and similarly how an entire promotional plan impacts buyer behavior. Therefore, implementation of an analytics strategy encourages accurate observation of buying patterns on a micro level and applying it to macro-level planning. Optimization allows for this possibility by considering user-defined constraints for the predictive scenario, customer plan or annual plan, and fine-tuning execution for maximum revenue, profit, or volume.
How This Changes Things
In this way, Hawkins's claim that "This customer-intelligent approach makes trade promotion, and even shopper marketing, the equivalent of bringing a knife to a gunfight" acknowledges the ineffectiveness of trade promotions but understates its potential. The scale of the investment in trade promotions makes it unlikely that companies are just going to let it die.
Trade Promotion Optimization is breathing new life into trade promotions by taking outdated practices and evolving them to be effective, sustainable, revenue contributing factors with new capabilities available to manufacturer.
Optimization brings together disparate data points to build an accurate and more complete picture and applies this insight to put together the best promotional strategy. Unlike former methods, where the "wait-and-see" approach was commonplace, optimization takes a proactive stance on trade promotions planning where results are predetermined. In other words, adapting to optimization allows you to see the results, to predict the future in a sense, before there ever is a fight. As a result, trade promotions becomes a tool to "effectively maximize customer lifetime value at a brand level."
But does it reach Hawkins's "customer of one" idea?
Making it a Reality
The reality is that a manufacturer cannot reach a single customer alone; they need the help of the retailer for that. We've discussed how data and new technological capabilities helps close this gap, but as Kim Harris Busdieker, director of customer communications at 84.51°, discusses in "The Next Frontier of Personalization: Trade Promotions?" from Ad Exchanger, retailer and manufacturer collaboration is crucial.
"In the future, retail trade planners and CPGs can jointly plan a strategy that integrates the needs of retailers with the needs of CPGs while minimizing wasted spend and maximizing customer benefits. Additionally, both retail trade planners and CPGs can better use one-to-one levers, such as personalized digital pricing and curated online promotions where it makes sense."
Rather than laying blame on each other, manufacturers and retailers can effectively work together to reach a single customer while both still reaping the benefits. As data grows and the need to innovate arises, manufacturers will benefit from collaborating with retailers to, as Busdiker explains, "ensure the customer's evolving needs can be integrated into planning by both retailer and CPGs."
Optimization comes into play by quantifying ROI and KPIs for both the manufacturer and the retailer. It can also consider the retailer constraints (i.e. promotional restrictions, minimum revenue/profit, forward buy, etc.), thus opening the door for joint-business planning. When both parties have access to a single, unified version of the "truth" can promote sharing the benefits of the customer-of-one mentality.
However, CPG manufacturers must try not to be resistant to fundamental change, or else the recipe for success will not work. With the technology of analytics and optimization comes organizational change. Busdieker emphasizes that, with constantly changing shopper behaviors, critical evaluation of promotions is necessary in order to stay on trend and implement successful tactics. She states, "Change can only happen once the industry acknowledges the limitations of the current reality." This change can often seem daunting, but if organizational leaders moderate this change with an open mind, the results are exponential because devoting the necessary time and resources are a key part of innovation. Remember, new technology means new methods.
The Real Difference
While Hawkins's point that trade promotions have been poor vehicles for customer sustainability may be true, it must be remembered that optimization negates this by acting as a crystal ball that allows for accurate predictions and therefore sustainability. It's also crucial to remember that in order to even consider the "customer-of-one" benefits, manufacturers need to partner with retailers in a collaborative effort based on a single version of the truth.
So, the future of trade marketing does not have to be an obituary filled with lost opportunity; rather, it's a data-driven dialogue about how we create and sustain growth.
Next steps: Download our e-book How to Optimize Your Trade Promotions