The Wall Street Journal article on May 29, 2018 entitled "Food Companies Churn through CEO's, Desperate for New Ideas" by Annie Gasparro and Jacob Bunge, states that 16 CPG CEO's representing over $150B in annual revenue have retired or been replaced over the past 2-year period. Some of the more noteworthy CEO exits come from General Mills, Mondelez, Campbell's, Hershey, Nestle and Smucker's.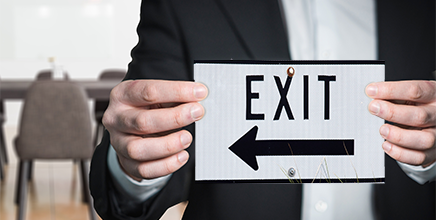 It is no secret that the CPG sector for the past decade has witnessed eroding margins on both the retailer and manufacturer side of the business. This, due in large part to an extremely mature sector struggling to create fresh ideas that meet the needs of the changing "Guard" from Baby Boomers to Millennials/Generation X.

Couple this with the increased CPG pressure from the low price retailers Lidl and Aldi and the entry of Amazon into bricks-and-mortar food retail via its Whole Foods acquisition and we have immense pressure on CPG manufacturers to attain volume and profit objectives creating the perfect storm. It is not surprising with these challenges that in the past 2 years that the "E" in CEO is closer to "Exit" than "Executive".

During the past two decades CPG manufacturers have invested significantly in technology to minimize access inventory while maximizing shrinking profits. We have seen the evolution of sophisticated ERP systems managing orders to cash, the investment in forecasting and demand planning systems, and a significant investment into consumer insights and demographic shifts from a marketing perspective. Over that same 20-year period we have seen the cancerous trade promotion investment increase from an average of 12% to close to 25% of gross revenue today.

It is not surprising with these challenges that in the past 2 years that the
"E" in CEO is closer to "Exit" than "Executive"

This #2-line item, only behind cost of goods, has not had proportionate improvement investments made against it to manage and maximize this large expenditure. Remarkably today, the multitude of CPG companies still manage a significant portion, if not all, of their trade investments on spreadsheets. As a result, the promotional plans that are eventually approved in this approach are woefully inaccurate and create a ripple effect of inaccuracy on the forecasting and demand planning systems.

Just as the ERP, forecasting and demand planning systems evolved to become more accurate, that same opportunity exists now to optimize the trade spend. This is possible with the advent of the cloud being able to handle massive amounts of data, the ability to accurately harmonize and smooth the data for anomaly, the analysis of post events in near real-time and the power to optimize future trade spending for both the retailer's and manufacturer's objectives.

A sophisticated Trade Promotion Optimization solution (TPO) not only delivers these critical components to manage the trade spend effectively/efficiently, but also the intelligence transmitted to your forecasting and demand planning systems that will result in a substantial annuitized payback. A best in class TPO solution conservatively will result in 3%-5% annuitized return on the annual trade spend.

Ask the recently ushered out CEOs what a sustainable return of this impact would have meant for their companies, and in many cases their jobs. To navigate today's CPG sector means investing in both the information that allows you to make better decisions and the tools to turn this insight into actionable, measurable results. Doing so may not only make the difference between whether you keep your job, but also whether your company is an acquirer or becomes an acquisition target.