It is difficult to go a week without someone pointing out that growth in Consumer Goods, especially for larger companies, is crawling along at best. A McKinsey & Co. Report, "Winning in consumer packaged goods through data and analytics ", recognizes that "over the past four years, large food-and-beverage manufacturers—which account for about half of total category sales—have remained stagnant, growing only 0.3 percent on average per year."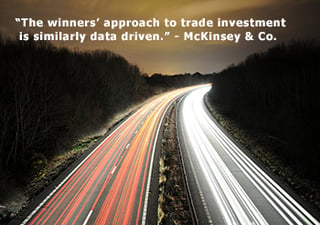 While we can pretend that these observations are temporary setbacks and continue on our path riding out the storm, there is a clear push to reassess of best practices as a means to spur growth.
"But irrespective of size, certain best practices set the most successful CPG companies apart from their competitors." states the McKinsey & Co. report.
Identify areas of potential influence
If the definition of insanity is doing something over and over again and expecting different results, what do we call doing something over and over again without knowing any results?
For many Consumer Goods companies, this is called trade promotions and it represents on average 20% of gross revenue.
Historically, trade promotions are an area where there is great investment but an unknown return. Because this is a clear inhibitor to strategic growth, it is also a natural area to evaluate best practices.
Get on a path to growth
"The winners' approach to trade investment is similarly data driven," explains McKinsey & Co. "They track a comprehensive set of key performance indicators and conduct formal reviews, paying special attention to deviations from trade-investment guidelines and imposing more stringent consequences for overspending."
STOP #1: GET ACCESS TO AND USE YOUR DATA TO UNDERSTAND YOUR INVESTMENT
In short, best practice when it comes to managing your trade investment requires a comprehensive approach to data intelligence focused on visibility and accountability.
However, visibility has already been identified as a shortcoming of most organizations.
"All winners use both trade-promotion-management and trade-promotion-optimization tools."
It is with integration of the trade promotion solutions that organizations can truly shift away from the speculative approach to trade marketing and develop a data-driven strategy reflective of accurate performance measures.
Specifically, the capability of a trade promotion optimization solution to harmonize siloed data and calculate ROI and key KPIs on the event, plan, product group or customer level in a centralized interface arms companies with the necessary barometer of trade investment health.
STOP #2: INVEST IN OPPORTUNITY NOT INTUITION
"Executives in winning companies are twice as likely to view advanced analytics as critical to business strategy. Those companies build an "insights factory"—analytical models, tools, and processes—that can generate city-level and store-level insights, informing decisions across the commercial organization."
According to McKinsey & Co. successful organizations not only have performance data, but empower their teams to make trade investment decisions as insight drivers. No longer are sales teams left to make uninformed decisions about promotional tactics and left to hope that they will not be asked to justify poor performance.
Instead with the power of predictive analytics and constraint-based modeling as part of a trade promotion optimization solutions, "choices made by the sales organization can yield meaningful differences in company performance."
In this way, trade investments can not only be analyzed for post-event ROI, but also can be allocated
STOP #3: SHARE THE LOVE
Who doesn't love to talk about success. More realistically, who doesn't like hearing that your success can be their success. According to the McKinsey & Co. report, "75 percent of winners share data with key retailers every week, while the remaining 25 percent share data in real time on an as-needed basis."
You are finally figuring out what worked and what didn't. You have a good grasp about what is going to work in the future. Better yet, because of trade promotion optimization, you have a sales staff that believes it will work and is armed with information that all retailer wants to know – their profits.
It's time to use them. These are not secrets; they are facts. Sharing them is in everyone's best interest.
How will you know when you have arrived?
There is no question that following this path will lead to a more efficient, more productive and more educated organization, but this blog is about growth. How does optimizing trade promotions equal greater sustainable growth?
Considering the average CPG company invests 20% of annual revenue in trade promotions accepting that the majority of these promotions will fail to break even is a recipe for disaster. A proactive approach utilizing the power of a best in class TPO solution can identify the underperforming promotions and replace them with optimized alternatives, resulting in improved ROI and incremental growth.
All of these will assist with spurring growth. However, none of this is possible without understanding what you are doing today. The McKinsey report states, "leveraging big data, tools, and insights to power their customer- and channel-management strategies, CPG companies can differentiate themselves from the competition."
What to read next: Analytics Driven Optimization Starts with a Hike Through the Data Weeds