Many companies have grown comfortable with the fact that the processes they are using, and have always been using, are not working to deliver the level of performance they desire.
As a result, the trouble of changing seems to outweigh the benefits. Most have a system to track their trade spending, possibly a trade promotion management (TPM) solution, but taking the leap into new technology can come with significant reluctance.
Many have experienced the meticulous process of implementing a TPM solution and the complicated reality of integrating into ERP. However, the process of incorporating a Trade Promotion Optimization solution (TPO) into your organization is much simpler due to integration directly into your existing TPM or planning tool.
"One hesitation we see with new clients is that since Trade Promotion Optimization is a newer technology, companies can lack the internal confidence that TPO is not the same implementation as TPM," states T-Pro Chief Knowledge Officer, John Weller.
While many organizations may be manually compiling their consumption and spending data in their spreadsheets, coupling a Trade Promotion Optimization solution (TPO) with a TPM solution allows for automated harmonization of consumption, spending, shipment and other data sources for maximized usability and centralized intelligence, as well as eliminating redundant entry.
"One of the most challenging conversations that companies need to have when moving to a TPO solution is about how they are being diligent about organizing the data," states Weller.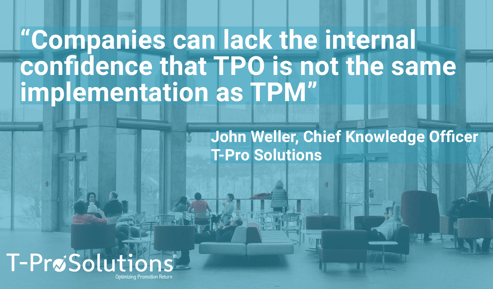 Of course, companies without a TPM solution in place can still take advantage of the post-event analytics and planning optimization components of a TPO Solution with direct importing of data into the solution.
Navigating the data structures and defining how current practices will fit into the new solution should be evaluated during the buying process with the assistance of a potential solution provider.
The considerations by the entire buying team should ease worries of user adoption and resource commitment that can often through your project off course.
Find out more about how CPG companies are overcoming common obstacles to maximize their trade investment. Download: Optimizing Outcomes: A CPG Guide to Successful TPx Advancement