Many CFOs today find themselves forced to allocate more funds into trade promotion a quantified return on the incremental investment. In fact, an article on CFO.com by reporter David McCann, "Disappointed with FP&A? Ramp Up Tech Spending," cites the Association for Finance Professionals' new survey showing that companies spend an average of 384 FTE days per year compiling data. Furthermore, 55% of surveyed FP&A practitioners primarily use spreadsheets as a means of analysis. However, research in the article suggests that companies largely using spreadsheets are not progressing and are thus lacking a holistic picture of the organizational health and risk falling behind their competitors due to failing to optimize their capabilities and investment performance.
The solution to this problem lies in investing in robust post- and predictive analytics initiatives; not just analytical initiatives that further complicate the process, but those that align skilled staff with analytical capabilities to maximize intelligence and efficiency in order to make trade investment decisions that sync with the company's financial objectives. According to the article, "Spending incrementally more on technology makes a huge difference." When 10 to 19% of FP&A spending is placed in technology, the average number of days per year spent compiling data drops significantly to just 154.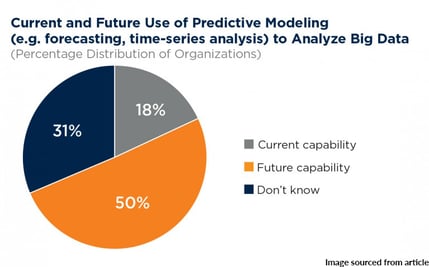 But the benefits don't end there. "The more that's spent on technology, the less time wasted on 'grunt work.'" Companies who spent 20 to 49% of FP&A budgets on technology decreased their days spend compiling data to a staggering 62 because automating transactional and reporting activities leaves the rest of those days able to be spent analyzing data for valuable insights that ultimately improve the health of the company's business.
The article quotes CEO of AFP, Jim Kaitz, as saying "Greater investment in technology liberates FP&A staff to do what they were hired to do, and what their organizations need them to do: conduct robust analysis future planning and forecasting to formulate better strategic decisions."
Not all technology will provide the answers
While there may be some small contention towards adopting new, data-friendly methods of operation, the rewards far outweigh it. However, these benefits come only with selecting the right technology solution to match your needs.
As a finance executive, championing a predictive analytics technology investment sees indirect benefits of improved resource allocation, improved real-time visibility into measurable results, and insightful future predictions. With this in mind, you must challenge your team and solution provider to consider these tough questions:
How will we measure a successful return and payback period on this technology investment?
How long is implementation of a solution compared to when we will start seeing results?
Will adopting this solution put additional strain on other resource areas: IT? Sales? Etc.
What will we know and be able to do that we cannot do now?
How will adopting this solution improve cross-functional communication, align with strategic initiatives, and position us for future growth?
What is the cost of not making this investment?
So not only is it a matter of investing in technology, but a matter of investing in the right technology. The proper analytics initiative for your company will yield measurable results, accurate predictions and multi-departmental benefits. Thus, innovation requires investment when it comes to maximizing your trade spend.
What to read next: Growth Over Savings? How CFOs prioritization of trade marketing can evolve with analytics