10 years ago the power, control and security of a custom developed on premise application solution was the clear and logical choice of large CPG IT departments. Large technology companies like Oracle, SAP and CAS to name a few, grew exponentially by offering a variety of custom built integrated applications to their evolving ERP systems, but these came with a high price tag and lofty expectations. The solutions offered addressed Forecasting/Demand Planning, CRM, Business Intelligence, TPM and most recently TPO.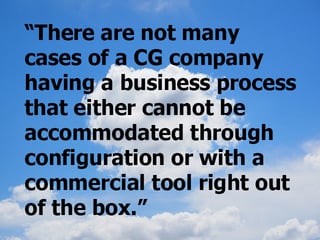 Over the past decade common threads has been painfully apparent in these custom application deliverables:
significant project creep creating cost overruns in the millions of dollars
overall corporate user adoption being extremely low do to a complex user interface.
According to the Promotion Optimization Institute's 2015 TPx and Retail Execution Survey, "It has been our experience over decades of deploying TPx solutions, evaluating existing tools in the marketplace, and advising on tool selections, that there are not many cases of a CG company having a business process that either cannot be accommodated through configuration or with a commercial tool right out of the box."
So surely, companies that are making large financial and time investments in on-premise customized solutions are seeing improvement in efficiency and returns? The answer is a resounding no. Instead of increased automation and efficiency, our experience shows us that our dependency on the "almighty spreadsheet" has either remained the same or increased. This dependency results in a substantial resource drain to the organization as a result of manually compiling business intelligence from multiple disparate silos. Equally important, it results in an accuracy loss when this static information is finally analyzed. We affectionately name this spreadsheet dependent process "How Many Hours……How Many Errors?"
Source: Unknown
With this in mind it is not practical to invest in a solution that is going to further distance us from the industry best practices, but rather one that is willing to put those best practices into the solution while maintaining to adaptability to meet our specific business needs.
In looking bring on any software making claims of greater efficiencies and returns, you must demand of the solution provider answer these questions:
How do your solutions work with the data and systems we already can in place?
What experience do you have with other organizations running similar systems to ours?
What is the estimated timeline of the project and what situations might extend this?
What is your plan to bring our internal staff on board? Can you work with our brokers?
How often do you release enhancements and new features to your solution?
What customizations have been helpful to other similar clients? What, if any, customizations do you see as being part of this project?
On-premise solutions were important because they gave you the illusion of control. What they failed to provide were the results that helped you improve your business and your bottom line.
What to read next: The Future of Analytics is Here: It's Time for a Trade Promotion Optimization Solution