One of the realizations that trade promotion teams experience upon implementing a TPO is the visibility into a wide range of metrics that were not possible before. The shift from being data-blind to drowning in data can choke an organization's productivity, leaving them worse off than before the metrics were available. This illustrates the classic difference between data overload and data intelligence mining.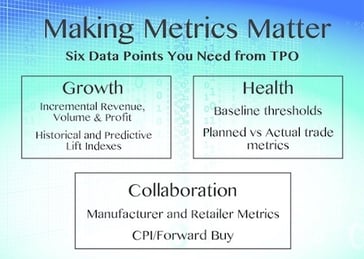 So what metrics should an organization pay attention to? Obviously it would be a disappointment to have read this far only to learn that what metrics are important depends on the priorities set in your organization. With that in mind, we have categorized metrics into three categories: health, growth and collaboration.
Growth
Before Trade Promotion Optimization, CPG companies struggled to connect disparate data accurately with growth calculations. This meant that that companies became caught in the paradox of knowing they needed to run trade promotions, but not knowing whether they worked. One of the greatest benefits of a TPO is its ability to quantify results.
1) Incremental revenue, volume and profit
Most experts agree that incremental revenue and profit is the greatest indicator of trade promotion spending success. With a Trade Promotion Optimization solution that calculates the ROI of promotional events, you cannot only determine whether a promotion was profitable, but also whether the lift during a promotion met expectations. Furthermore, the ability to align spending, POS and shipping data delivering organization specific KPIs, provides the comparative analysis necessary to calculate the incremental revenue, volume and profit serving as a barometer of long-term growth. Couple this with overlays of consumer spending and competitive events, you have both a measure of event success and an indication of the factors that influence it. As a result, monitoring this metric shows real-time and long-term growth allowing you to make adjustments if expectations are not being met.
2) Historical and Predictive Lift Indexes
Growth is not just an outcome of analysis, but with a Trade Promotion Optimization solution that has predictive analytics, growth is a primary consideration during planning. Have you ever wondered what the results would be if you could make one change to one promotion? Visibility of both historical and predictive lift indexes during the planning process creates the opportunity to monitor projected growth, and also select the lift index that best meets organizational objectives. With this ability you can make adjustments to a planned event to optimize for revenue, profit or volume putting growth measures at the center of your planning experience.
Health
One of the benefits of a Trade Promotion Optimization Solution is the ability to monitor performance at the event level and over an elongated time. Doing so allows you to identify volatility, underperformance or downward trends that raise concerns as to the health of your promotion plan.
3) Baseline thresholds
Assuming that your TPO solution harmonizes data to provide accurate baselines, monitoring when baselines fall outside user-defined thresholds becomes a necessary metric for evaluating brand/sku health. With customized alerts, notifications can be sent when a baseline shows unusual fluctuation and an admin user can determine whether the cause of the discrepancy is; data anomaly, category volatility or brand erosion and taken appropriate corrective action.
4) Planned vs Actual trade metrics
The ability to quickly visualize planned vs actual promotional activity separates what you think is happening and what is actually happening in the store. Therefore, the health of your entire program can be assessed based on real and not projected data. Similarly, analysts can scrutinize instances where a planned promotion and an actual event do not match identifying operational and or retailer disconnects. Missed opportunity and/or misinformation based on incorrect data can damage the health of your trade program.
Collaboration
The barriers in the CPG industry continue to fall. Whether it is divisions between sales and marketing or between manufacturer and retailer, reliance on a data-driven single version of the truth is making collaboration a possibility and a necessity.
5) Manufacturer and Retailer Metrics
"How does this affect me?" This was always an unknown that put a stress on retailer and manufacturer relations. With a Trade Promotion Optimization solution calculating both retailer and manufacturer revenue, profit margin, profit and other metrics are done as part of the planning process. The availability of this information opens the door for not only better professional relationships but also for the possibility of joint business planning that is mutually beneficial to all parties.
6) CPI/Forward Buy
Another unknown in trade promotions planning is calculating forward buy when running a promotion. This often leads to miscalculations of lift, inaccuracies when planning future promotions and deficits in supply creating tension between retailer and manufacturer. Trade Promotion Optimization should include a Consumption to Purchase Index (CPI) that automatically calculates forward buy based on user the retailers passed invoice promotional purchases vs. what was purchased by the consumer. The manufacturer's ability to anticipate the forward buy from retailers, eliminates the guessing game of what the total sales demand for a specific event.
So what metrics matter the most?
Like with any access to new information, trying to digest all of the data at once means that you are probably not using any of it well. In the case of Trade Promotion Optimization, start with the metric that fulfills a current hole and expand from there. Many organizations are first-worried about solidifying their post-event analysis before they even think about predictive planning. Others, want to make sure their planned promotions act as a catalyst to improve promotion health.
Regardless, it is crucial to remember that the purpose of monitoring a metric is only as valuable as your ability to act on your findings. Using the metrics defined here will not only inform you about your current plans and practices, but empower you with the intelligence to act. If the Trade Promotion Optimization solution you are using or considering does not include the ability to calculate the metrics discussed here, perhaps you should be asking why.
What to read next: Solving Analytics Mysteries with Innovation