According to the "Retail and Consumer Goods Analytics Study" by Consumer Goods Technology and Retail Info Systems, over 36% of Consumer Goods respondents defined having a limited analytics toolset as a major challenge. Furthermore, over 38% of respondents identified the inability to integrate data from multiple sources as a top analytics challenge.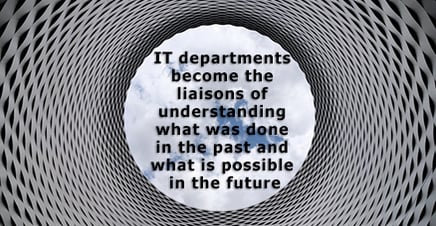 At first glance, this may seem unremarkable and even been perceived as progress, although the results are very similar with the previous year. However, what it does reveal is that the majority of companies perceive analytics challenges as technology challenges. According to the study, "Companies are well aware of the accelerating tech landscape and the gap that continually widens between current capabilities and what is possible."
It is the results with the "what is possible" promises of data-driven decision making and predictive/prescriptive analytics (see also "3 Ways Predictive Analytics Helps IT Leaders") that has CPG companies anxious to get started, but are scrambling to build a unified analytics strategy. Who is responsible for doing this?
45% of study respondents say that currently analytics initiatives are managed by individual departments.
In other words, companies have taken on the challenge of gaining intelligence from disparate data sources and isolated the solutions in equally disconnected ways. Does this mean that IT needs to step in to manage the separate solutions or centralize operations under a single enterprise solution?
The study would indicate no, as only 9% of respondents indicate that IT should be responsible for analytics. Instead, 55% of study respondents prefer a shared analytics department or center of excellence. As such, this is the true opportunity for IT leadership to be central in linking technology with organizational initiatives that break down departmental and data barriers as critical components of developing a center of excellence.
Take, for example, the segments that CPG and Retailers identify as the top areas of analytical focus in the study – Customer Insights and Promotion Effectiveness. These challenges in a CPG company not only touch many departments (finance, sales, marketing, trade marketing, revenue growth management, etc.), but are informed by multiple data sources (POS, shipment, consumer marketing, trade spending, etc.). A segmented approach to analytics capabilities would result in multiple solutions that meet individual department needs with siloed data that only offered a partial picture of customer and promotion intelligence.
The perspective of IT as the technology voice in the center of excellence allows for the weighing of multiple priorities, data considerations, and resource allocations that may be addressed with a single solution. In the case of customer insight and promotion effectiveness, a comprehensive post-event analysis, and predictive planning optimization solution, as is found in Trade Promotion Optimization solutions, can be a catalyst for the analytics-driven results that CPG executives are demanding from their organizations.
"As the leaders accelerate their superior capabilities and extend into new channels and categories, everyone else is under significant pressure to put the pieces in place to understand and serve their own customers like no one else can," states the study.
It will fall on technology leaders to not just throw empty technology promises after these new and more sophisticated challenges. Rather, it is more critical than ever that these decisions are guided by proven results and agility to evolve as analytics prioritization demands the IT departments become the liaisons of understanding what was done in the past and what is possible in the future.