On the surface the challenges manufacturers of incumbent brands face with the rise of private label acceptance include: pricing pressures, limited shelf space, wavering category influence and most notably declining sales volume and revenue.
"Every major CPG category saw yearly sales increases, but that the top 100 CPG brands declined in volume," according to the Clarkston Consulting article, "How to Achieve Margin Growth Without Mortgaging Your Top-Line". The article continues, "The bulk of the decline was attributed to brand shifting within categories and increasing fragmentation of consumer preference for brands."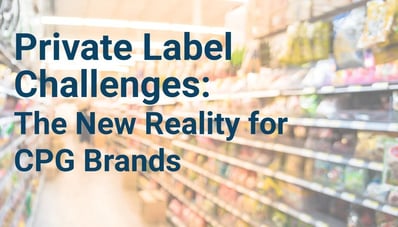 Digging deeper, there are other challenges that manufacturers must address to stay competitive and maintain or even grow
amongst growing private label popularity:
Challenge #1: Multiple price point private label competitors
Reality: Gone are the days where private label takes the lowest price point. Today, private label may now have multiple
competitive products and price levels within the same product group/category.
Impact: Pricing promotions that once made branded product the same or even lower than private label may drop the product
into a separate tier where the lower price intended to drive volume becomes the consumer expectation for everyday price.
Challenge #2: A race to the bottom
Reality: As private label takes market share away from brand manufacturers, there is a reactionary response to significantly drop price to stop declining sales.
Impact: The waterfall effect – the "follow the leader" mentality of competition will quickly drive price down throughout the product group eliminating any margin difference between branded and private label products. No retailer will allow this to happen as it not only threatens the sustainability of the category, but also the profitability of the retailer. As a result, retailers continue to use branded product shelf space and location as bargaining chips to maintain profit margin making it increasingly difficult to compete with private label products.
Challenge #3: Data inequity
Reality: The timeliness and availability of data that retailers have about their private-label products and manufacturer products make informed decision making for retailers more possible. This inequity serves as leverage for retailers to shape manufacturer pricing and promotions strategy to retailer benefit.
Impact: Without bringing any usable insight to the negotiating table, manufacturers will continue to by at the whim of retailers that prioritize private label profitability over collaborative category development. As private label sales rise, so will the power of retailers to limit branded influence unless manufacturers can use their own analytics and optimization planning -capabilities to create an alternative and inclusive narrative.
The rise of private label products has exposed a vulnerability to established brands. The grocery aisle is now a place where private label and manufacturer brands must not only share space, but also share customers. Likewise, it needs to be a space where we share success.
Read "Private Label Infiltration: How CPG manufacturers can use data, analytics, and optimization to compete with private label popularity" to see how companies are rising to the challenges of private label growth.