As you read this you are "celebrating" either the end of another quarter or another fiscal year. Whether directly impacted by recent announcements of mergers and acquisitions or feeling the pressure of headlines calling for significant change in the wake of increased margin compression and retailer mandates, there is no question that the decisions made by companies in the next 6-12 months cannot repeat the same mistakes of the past.
For finance leaders turning their attention to budget allocation and 2019 promotional planning, this means added pressure to contribute strategically to decisions that drive results.
To do so means having better intelligence to make better predictions to encourage better investments that lead to better profitability.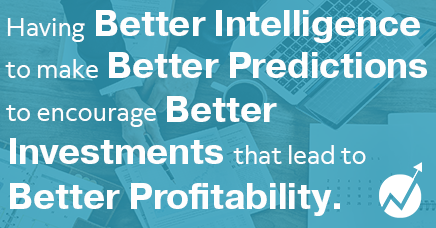 Better Intelligence

To avoid getting the same results of the past requires having an accurate and measurable view of the past. For many CPG
companies, the inability to visualize and quantify base and promotional performance during post-event analysis (See also:
Begin with the Base: Building the Foundation for Accurate Post-Event Analysis and Planning), is a significant obstacle to
developing an informed strategy. While most companies have access to the POS, shipment and spending data necessary to
evaluate trade investment, many struggle to cleanse and harmonize this data in a timely fashion to use the learnings as
anything more than moments to point to when asked to justify another trade -overspend.

Adopting this data-driven approach to trade investment analysis puts finance leaders in the position to identify the most impactful business drivers, to compare planned vs actual vs prior performance results, and to accurately quantify
promotional effectiveness in terms of business KPIs and objectives.

With the implementation of a Trade Promotion Optimization Solution (TPO), this historical insight can be centralized to eliminate the error-prone and time-consuming custom reporting of today's spreadsheet-dependent practices, creating an accurate real-time corporate "Version of the Truth".

Better Predictions and Better Investments

It is one thing to know what worked and what didn't, and another to use this intelligence to impact the future. This means change and change without predictability equals risk – something that finance leaders are tasked with avoiding instead of embracing. However, increased accurate insight combined with the predictive modeling capabilities of a TPO solution eliminate the inherent risk of proposing changes to trade promotion strategies by calculating planned KPIs at the event and customer plan levels. This means that finance and trade/sales planning teams can have real conversations about what-if and why not that compare past promotional tactics to new tactics and event mixes without the risk of the unknown hampering growth opportunities.

Instead, these quantified predictions can be used to improve forecasting, plan sales targets, and even inform budgeting decisions. Today, many companies are able to compare planned spend to budget. This only provides the how much, not the how well. Using the predictive planning capabilities of a TPO, companies will be able to measure planned spend vs budget vs planned revenue, profit and volume. This means that instead of measuring trade as an expense, companies can start to look at the return on this spending during the planning process and therefore shape better investments.

Better Profitability

In the end, better intelligence and better predictions will only be measured in their ability to deliver better profits; delivering the entire goal of trade promotion investment – right price, right time, right product, right place = revenue growth/profit for the company.

From a capability perspective, a TPO solution lays the foundation for the results-focused decision making with both its predictive capabilities and constraint-based optimization features aligning planning with corporate objectives.

From a strategic standpoint, companies searching for ways to navigate disruption, competition and stagnation can begin building an investment strategy today with visibility to its future impact instead of waiting the 6 or 12 months for execution to realize another missed opportunity. More importantly, these planning and analysis capabilities can be part of a company's business operations in under 10 weeks making impact on your objectives a real possibility for this year.

It is about time that CPG companies truly had something to celebrate as they anticipate the results of another quarter or year. While retailers will continue to shift demands to manage their own profitability and e-commerce priorities may open the door to new possibility, securing the significant and foundational investments companies make in trade promotions does not have to be an uncertainty. Instead, creating better practices using better data will lead to better results today and be sustainable in the future.