This is the second installment in a guest-series about best practices in Consumer Goods Revenue Growth Management by experienced CPG and Revenue Growth Management veteran, Mike Downey. Read the first installment, "Uncovering and Maximizing the Revenue in Revenue Growth Management" that identified the challenges companies face when transitioning to RGM.
Want to learn more about RGM?
Click the link to watch our most recent Webinar: Raising the Pillars of Revenue Growth Management.
Presented by Mike Downey and Moderated by John Heuer.

The success of a Revenue Growth Management (RGM) program for a CPG company will ultimately be measured in its ability to optimize revenue, volume and profit. Of course, establishing a strong RGM capability and getting there are two different things. For many consumer goods companies, the tactics used to drive top line growth often conflict with the desire to improve profit margins.
In other words, Revenue Growth Management is not a "better results at any cost" approach; it's a purposeful, guided, educated approach to better decision making. To achieve this sustainable, data-driven growth requires changing the way we look at the investments we rely on to generate topline growth.
Trade promotion is viewed as a significant expense – understandably since it typically represents one of the largest line items in a companies' P&L. Viewing trade promotion solely as a spend means the only way to manage trade is by either increasing or cutting spending. With this, we see the battle between increasing spending to rescue an underperforming plan or cutting spending to bolster the bottom line. Today, we manage the outcome by managing the spending.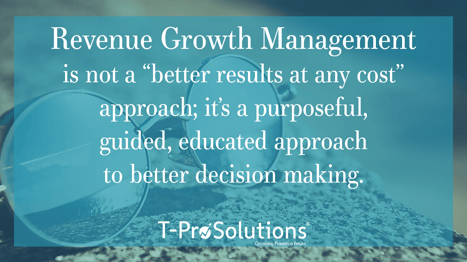 In a Revenue Growth Management approach, we manage the outcome by managing the potential for optimal return.
This means that we must see our efforts through the lens of profit instead of cost. In doing so, considerations about
pricing strategy, trade governance, incremental spending and more should be driven by what we know, what we can
predict, and what we can measure. As such, a key component in adopting an RGM approach is having the processes
and technology solutions to BOTH monitor the spending AND analyze, test, and predict to profitability of our investment.
(See Why Your TPM Needs a TPO Solution)
While much of this may sound great in theory, the day-to-day realities of navigating complex organizations with already
tight resources may weaken any momentum and progress before you get started.
The following small steps can go a long way in helping you build, maintain, and eventually reap the benefits of an RGM approach:
You need commitment from the top
Revenue Growth Management is a journey with it's greatest deterrent being change management. It begins with a commitment from the top and the willpower to say no to high impact, low profit programs. It also requires complete alignment throughout the organization. Clearly communicating expectations throughout the organization not only shifts the conversation from "change focused" to "results focused," but also ensures execution is aligned to corporate objectives. Only with a commitment from the highest levels of the organization can you give all stakeholders the license to effectively do their jobs.

It's all about the data and what you do with it
An expected outcome of a strong RGM capability is better decision making which comes from better information. This is why you must commit to and invest in the capability to organize, analyze and utilize the data in actionable ways. The best way to do this is to partner with a solution provider that makes the data complexity and subsequent data harmonization simple so you can focus on gaining insight and driving results.


RGM is not an optional initiative
With topline growth continuing to slow while trade rates continue to increase, the stakes are too high to not invest in a RGM capability. Keep in mind establishing an RGM function is a journey and requires a lot of work. However, regardless of where you are in your journey, you need to commit to continuous improvement. Even if that means in year one, you only invest is in setting up a TPM system. Year two can focus on post event analysis; with year three leading to a very consumer based process. Regardless of where you are today, you need to commit to Revenue Growth Management. Without it, margins will continue to erode while your competition continues to gain share.
Regardless of the stage of your company's Revenue Growth Management journey, awareness of the strategic vision and goals that are guiding your actions is critical to sustainable success. RGM is not an approach that asks to reinvent everything your company is doing; it simply gives you the intelligence and foresight to do it better. In the end, the tactics won't change (A TPR is a TPR. An ad is ad.) However, your organization will connect the dots between investment, price, tactic, customer and profit in strategic ways that benefit you and your retail partners.
Mike Downey is a Sales Executive who has spent his career in the consumer packaged goods industry. Leveraging his experience as a Sales leader at Quaker Oats and PepsiCo, combined with his consulting background at McKinsey & Company and Henry Rak, he has developed a keen sense for leading sales organizations and developing successful go to market strategies. In his most recent role with Snyder's Lance, he held the position of Vice President of Sales Planning and Commercialization leading their Center of Excellence. Mike is a strong sales leader and has a proven track record of getting the most out of his teams and consistently delivering results.
John Heuer is a CPG Industry Executive with 31 years of experience in Sales Leadership, Marketing, Trade Marketing,and Customer Relations. He is the Former Chief Customer Officer at Hain Celestial Group & Former VP of Strategic Customer Teams at Kraft-Heinz. John is now the President of Set Sales Consulting, LLC where he focuses on Sales Function Design and effectiveness, Trade Spend Optimization, Customer Marketing, and Senior Level Customer relations.