In building our continuing series on Revenue Growth Management, a theme that we see pervading successful CPG organizations is the commitment to optimize the people, processes, data and technology that support any RGM initiative. Deficiencies in any of these areas not only threatens the efficiency and effectiveness of the other components, but also can significantly limit the revenue potential your organization is investing in by prioritizing RGM.
Whether it is due to misinformation about the need for costly projects and customizations or doubt caused by previous experiences, technology investment is one area of RGM that CPG companies are often reluctant to embrace to achieve their objectives. It is understandable that an initiative designed to maximize return and resource utilization while limiting expense may cause hesitation about additional technology investment. However, with a Trade Promotion Optimization (TPO) solution as a foundational enabler of your people / processes and as an intelligence center for data management, the organizational benefits far outweigh the financial investment. (See Also: Seeing Opportunity Through a RGM Lens) Additionally, a primary characteristic of a TPO solution is the ability to quantify and optimize the annual return on your company's trade promotion investment. In other words, the solution should pay for itself.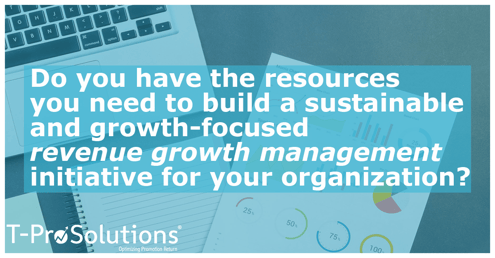 Test yourself
Situation: You are in the process of reviewing your customer plan to try to increase the incremental
volume sold during a specific promotional period. You are considering a more substantial price reduction
(maybe moving from 2 for $5 to 2 for $4).
Challenge: How would you answer these questions?
Is this change enough to drive the incremental volume you are looking for?
How would this change impact your net unit cost?
If the net unit cost is too low, how can you identify the price point that helps you achieve your incremental volume objective while maintaining an acceptable net unit cost?
How does this price change impact your other KPIs (incremental revenue, profit) and your budget?
How will explain the impact that this pricing change will have on your retail customer?
Assess your readiness
Assessing the organizational benefits that a TPO solution can bring to your organization begins with considering these questions:
Is data quality or disparate data limiting your understanding of your trade spending and effectiveness?
How do you do mass pulls of the data and how do you mine the data to see trends in your events?
What historical and predictive KPIs are you using to define your pricing guidelines?
Who is performing your post-event analysis? How many customers? How often?
How do the insights gained from your post-event analytics inform your continuous improvement plan?
How do you review and approve incremental funding requests?
Do you have a pricing plan for your customers?
There is no doubt that these questions challenge an organization to think differently about the processes behind the outcomes that they want to achieve. It should be noted that some companies will look at these questions and think that they are nowhere close to being able to answer these. Others will be further along in their journey. Regardless, it is important to recognize where you are, what you want to achieve and determine what people, process and technology resources you need to build a sustainable and growth-focused revenue growth management initiative for your organization.
It is also crucial to recognize that none of the questions above can be addressed initially or continually in the future without the ability to organize, cleanse, and analyze data to better predict and optimize outcomes without the fundamental capabilities of a TPO solution. It is only with combining RGM processes and oversight with the data-driven actionable intelligence of a TPO solution that positions a company to create the efficiency and effectiveness improvements that result in wiser investments with higher ROI and revenue growth.