When we think of trade promotion investment we tend to focus on connecting isolated events to overall brand or category performance. This is challenging by itself due to a limited ability of some Consumer Goods companies to harmonize their data and gain visibility to a quantified ROI of promoted events. Furthermore, for many organizations that have layers of brands, viewing trade promotion performance in this way makes alignment to or analysis of impact on corporate-level initiatives nearly impossible.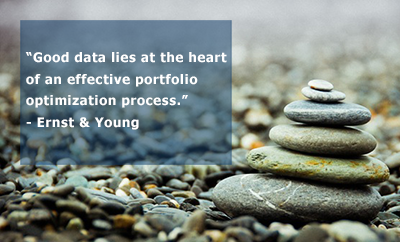 A recent Ernst & Young publication, "Can your portfolio of brands provide the answers you need? Five questions consumer products companies should consider to optimize their portfolios" points out that companies large and small, "struggle to deliver sustained growth across the entire portfolio."
As a result, EY suggests "Given the revenue growth pressures that consumer products companies are currently facing, we believe that a strategic approach to portfolio optimization is especially vital now."
Preparing a strategy
It is very easy to talk about the obstacles to portfolio optimization –siloed departments, disparate data, poor performance visibility– but defining a strategy means that we can no longer look at portfolio review as an assessment, but rather as an ongoing comprehensive process. In other words, discussions around portfolio optimization should use data insight gained from brands, categories, and customers to assess the portfolio strength as a whole and develop a plan to -optimize overall portfolio growth.
In the EY publication, Michael McGoohan, Vice President of Global Head of Strategy at Mondelez International, is quoted as saying, "Being able to take a broad, strategic view of the portfolio and really understand what we want and why it is challenging, but it is essential part of success."
In terms of trade promotion investment, without a portfolio optimization mindset we have very little understanding of how changes to a brand or category affect the overall health of the portfolio. -This results -in misaligned resources and -and an inaccurate assessment of an individual brand's value.
However, when we begin to align decisions about the trade promotion investment, with our portfolio optimization strategy our trade planning and analysis becomes more goal-oriented and revenue/profit focused.
Let the data lead the way
We are not in the dark when it comes to mapping our decisions toward optimizing a trade promotion and portfolio performance strategies. The availability of data and analytics insight provide the foundation for thoughtful, growth-minded decisions.
"Good data lies at the heart of an effective portfolio optimization process. Without good data – both internal and external – companies will struggle to make the right decisions," explains the EY publication.
Therefore, cleansing and data harmonization needs to be key components as you move toward portfolio optimization, but so should what we do with that data. On the one hand, understanding historical performance allows us to -identify success and monitor trends. On the other hand, only using historical data prevents us from making educated future decisions and analyzing potential impact based upon category/market trends.
"Moreover, companies need to move beyond purely historical data; they need the tools and technologies, including sophisticated analytics capabilities, to forecast and consider scenarios that describe the direction of a brand and its impact on the wider portfolio."
Doing so turns data insight into an analytics strategy that can become actionable. It is in the predictive and prescriptive analytics capabilities where goal attainment becomes proactive. Finally, companies can see and test unlimited possibilities measuring the impact of an individual or mix of decisions on the specific organizational performance objectives.
'" If I am a CFO or CEO, I need to understand how various courses of action impact the metrics for which I am responsible. You need a structured, quantitative assessment of potential outcomes of acting on different scenarios,"' states Jim Provost, Executive Director of Transaction Advisory Services at EY LLP in the published report.
From idea to application
According to Global Divestment Study — Consumer Product and Retail Highlights, EY, 2016, 48% of respondents identified consistent application of sophisticated analytics tools and 46% identified access to accurate comprehensive data as significant changes to portfolio review.
It is these avoidable challenges that are limiting organizations in their quest to be more efficient, more unified and more profitable. The power of analytics solutions, such as trade promotion optimization, to assist in data harmonization, analysis, and predictive and optimized scenarios is becoming both a reality and a necessity at a time where brands are volatile and companies are vulnerable to acquisition. The difference is that the organization focused on promotion optimization can see how each piece will fit together in the overall plan or disassociate it when doesn't fit.
With immense benefits being possible, it will require strong leadership to instill confidence and carry out vision to turn these possibilities into realities. After all, optimization starts with brining your greatest mix of assets together to get the best results.
What to read next: How to Solve Trade Marketing Problems Surrounding FP&A (Failure to Produce Answers)