Reaction to the McKinsey and Company study "The Need to Lead in Data and Analytics"
Data analytics continues to be a need-area for many CPG manufacturers as the influx of data piles up and the investment in trade programs undergoes increasing scrutiny. However, while demand for organizational data-analytics will be on many corporate wish-lists, the push for operational initiatives harnessing the power and increased efficiency of data-analytics will not come from the C-Suite.
According to a report, "The Need to Lead in Data and Analytics" by Brad Brown and Josh Gottlieb of McKinsey and Company, "Thirty-eight percent of CEOs say they lead their companies' analytics agendas, but only 9 percent of all other C-suite executives agree." Furthermore, it should be noted that the study emphasizes the importance of CEO and C-level involvement in increasing the success of analytics initiatives.
Why does this matter?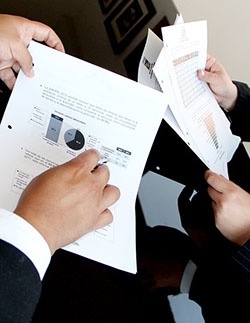 The survey implies that there is a disconnect between strategy and execution. "But even when analytics are top of mind for company leaders, many of them don't seem to be communicating a clear vision throughout their organizations."
The result is that organizations know that data analytics is direction that they want to take, but are paralyzed from moving forward and enacting - or in some cases even developing - a plan to reap the benefits that come with data-driven actions.
In trade promotions and marketing, this plays out by many organizations managing disparate data manually on spreadsheets in hopes of getting a better view into their promotions' performance, but remain reluctant to investigate trade promotion optimization (see Fear of disruption limits CPG abilities to stay competitive).
Frankly, there is a gap between the 30,000-foot view of data- analytics as a strategy to drive revenue and profit and the day-to-day view of data-analytics as a tool to improve performance and efficiency. This gap creates a "waiting for someone else to own this" mentality that makes aligning strategic initiatives with departmental practices near impossible.
Closing the gap
Particularly in the areas of trade promotions and marketing, companies are eager to quantify the effectiveness of their investment – often as high as 23% of revenue. As a result, leadership is often open to new ideas that aid in this process.
Someone has to own the change – why not you?

The McKinsey survey indicates that companies struggle with the, "difficulty of creating a distinct analytics culture without a central team and leader." In most cases, it is not the lack of recognition that an analytics program would be helpful, but rather finding a person within the organization to drive the change.

However, don't expect the CEO to come knocking on your door asking you to lead this project. "Within the C-suite, the CEOs' direct reports are more likely than CEOs themselves to cite difficulty attracting executive leaders for analytics—roles that are critical, given the correlation between leadership involvement and overall analytics success."

With this fact that there is an opportunity, but not a plan.

Create the urgency for data-analytics by having a plan that includes resources, expenses, and most importantly quantifiable results.


You are not alone… find the right partner.

While this may be the first time your organization is considering data-analytics, the practice of using analytics to quantify trade promotions returns, make more informed planning decisions and improve organizational efficiency is not new.

According to the McKinsey survey concludes that higher performing companies are, "nearly five times likelier than their low-performing peers to say they have tools and expertise to work with unstructured and real-time data. And they are nearly twice as likely to say they make data accessible across their organizations."

When it comes to the right data-analytics tool for trade promotions there are several questions that you should consider (see Choosing a TPM/TPO solution).

Equally important as the tool, is an expert team that knows data analytics and the CPG industry to partner with you to create that sense of urgency, build confidence, advise throughout the vetting and implementation, and ultimately show the possibilities using a sample of your data.


Make the case

When you are equipped with ample knowledge, empowered with best tool, and supported by partners who understand your company and industry best practices, it is time to go to your leadership. Remember, they have already been thinking about this, but are also balancing numerous conflicting demands.

The McKinsey survey explains "companies must ensure that they have the right balance of technical and domain expertise, that resources are being used efficiently, and that all analytics resources align closely with the goals and targets of the business units they support."



Your case must address all of these.
The bottom line - because this is where it matters
There is no question that incorporating data-analytics practices into trade promotions post-event analysis and planning capabilities will have an effect on your organization. What is a good enough effect to motivate change?
"What's more, the high performers are more likely than low performers to say their primary purpose with analytics is building competitive advantage—and less likely to say they are simply trying to cut costs."
Being able to quantify that effect is the difference between organizations talking about data-analytics and having a reason to use them.
What to read next: Breathing New Life into Trade Marketing with Optimization