In a move that reflects a growing trend in the Consumer Goods industry, the Wall Street Journal reports Coca-Cola announcing IT will now report directly to the CEO. While there is no question that technology is taking a more relevant position in managing data, automating processes, and fostering innovation; fundamentally this move reveals a more significant prioritization of technology as a strategic contributor.
Gone are the days where a company purchases a solution to solve a problem or fill a gap. It is this band-aid type thinking that has many companies still waiting for "custom" solutions for "custom" problems to come to fruition while costs rise and no returns are in sight. Instead, companies are turning to technology as an investment to help them better understand their customer and drive revenue improvements.
In the Wall Street Journal CFO Journal article "Making Data a Board Agenda Issue", Deloitte CEO, Cathy Englebert states, "There's an even more fundamental differentiator that will play a critical role in how companies effectively compete in the decade to come: getting the right data, extracting insights from that data, and identifying the platforms on which data can be used strategically."
What this means for CPG leaders?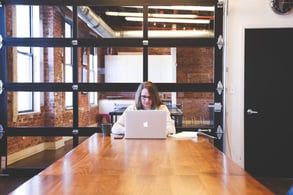 Approaching technology from a strategic investment position means that CPG leaders need to be the champions for these initiatives to ensure that they have the intended impact on the company's bottom line. As whispers of change begin to swirl it is critical for organizations to clarify:
"Invest time in communicating the vision, finding as many opportunities as possible to make clear connections between vision and mission of a company, and the role data and technology play to support its ambitions," states Mars CIO Vittorio Cretella in a CIO Review Column.
Of course, leading the change also means that some CPG leaders need to evolve their thinking about their approach to technology investment.
"Companies are turning to technology as an investment to help them
better understand their customer and drive revenue improvements."
"Do not assume that deploying a single global solution means you have achieved optimization. With the plethora of SaaS solutions, cost of ownership is minimal. Getting accurate results of promotion tracking and effectiveness is better than deploying one solution to achieve a small portfolio," according to the Gartner Market Guide for Trade Promotion Management and Optimization for the Consumer Goods Industry.
Where to start?
The shift toward strategic technology investment signals a prioritization by executives toward organizational revenue management.
Trade Promotions is one area where its data-rich nature coupled with the difficulty gleaning useable and timely insight due to error-prone practices make this significant investment for Consumer Goods companies prime for improvement.
Addressing these process and performance deficits with a C-level supported technology investment, such as a Trade Promotion Optimization Solution, stands to encourage data-driven decision making toward bottom-line growth while organizationally aligning sales, marketing, finance and IT toward common objectives.
Placing IT under the CEO is not an "I can do it better" decision. Instead, it is a "imagine the possibilities when" strategy to focus technology and business investment on growth.
What to read next: Are You Afraid of Your Data?