This post is an excerpt from the E-Book: "Putting the O in Optimization". Download the entire book here.
The McKinsey & Co. post, "Winning in consumer packaged goods through data and analytics" by Kari Alldredge, Jen Henry, Julie Lowrie, and Antonio Rocha states, "All winners use both trade-promotion-management and trade-promotion-optimization tools." But why?Looking at the history or consumer goods' relationship with big data, it has been over 40 years since IRI and Nielsen began providing consumption data to retailers and manufacturers. In this time, the amount of data has grown at a rate that outpaces their ability to organize and decipher it.
When TPM came to market, it provided a way to manage the financial aspects of trade promotion, but no TPM can accurately quantify the return of a promotional event.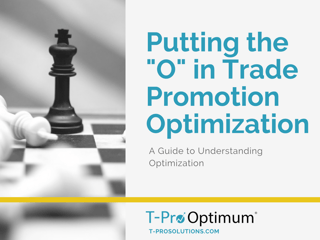 Trade Promotion Optimization is the next innovation is managing trade promotion investment because for the first time manufacturers can bring together analysis and planning in a way to make an impact on performance outcomes.
As an analysis tool, trade promotion optimization should allow organizations to:
see the interplay of consumption, shipment and spending data as it affects the quantified performance indicators of an event
monitor baseline trends over time
account for inconsistencies in syndicated performance data and correct data anomalies.
monitor the effects of competitor and consumer events
As a planning tool, trade promotion optimization should allow organizations to:
eliminate redundant entry with tight integration into TPM system
conduct unlimited what-if scenarios
create a library of approved plans
calculate predictive manufacturer and retailer KPIs
use predictive and constraint-based modeling to determine optimal performing events and plans at the product and customer level
compare annual plans optimized for profit, revenue and volume
The same McKinsey & Co. post explains that "They [Winners] differentiate trade investments using metrics that cover both outcomes (such as net sales) and activities (such as placement of promotional displays). They track a comprehensive set of key performance indicators and conduct formal reviews, paying special attention to deviations from trade-investment guidelines and imposing more stringent consequences for overspending"
This is only possible with integration of a Trade Promotion Optimization solution into your Trade Marketing Workflow. With these capabilities, manufacturers are empowered to move away from seeing trade promotions as a costly necessity to entice customers and align trade investment strategies with revenue management initiatives. This is possible because organizations will have real-time performance measures at their fingertips to explain the impact of promotions on category, brand and overall business performance, as well as the powerful predictive capabilities to be agile and proactive in achieving future objectives.
Download the entire E-Book: "Putting the O in Optimization" here.