The Consumer Goods sector is a space where large investments and high volatility often result in grand shifts in the name of effectiveness and profitability. Industry giants like Unilever, Coca-Cola, and Nestle have recently announced reorganization and re-strategizing to spur growth and cost savings, while smaller consumer goods manufacturers are being hailed as agile, innovative party crashers experiencing significant success and acquisition attention. As a result, investment in revenue management strategies that can impact bottom-line growth is readily prioritized.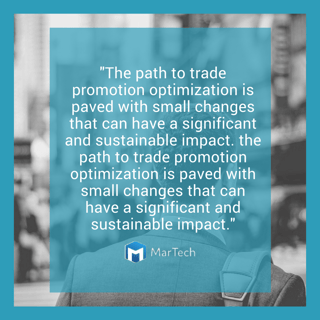 Nowhere is the scrutiny greater than on trade marketing where consumer goods companies invest more than 20 percent of their revenue only to see over 59 percent of promotions be ineffective according to Nielsen. Furthermore, the Promotion Optimization Institute estimates: Satisfaction around the ability to manage trade promotions and to execute at retail has declined and now stands at 14% and 19%, respectively in their 2016-17 TPx and Retail Execution Report.
With such alarming results, one might suspect that trade marketing is susceptible to the next sweeping change in CPG companies, but the reality is that improving trade promotion performance should not require the monumental process, people and product overhauls required by other cost-improving measures. Instead, the path to trade promotion optimization is paved with small changes that can have a significant and sustainable impact.
Click here to read the full story!