In reading a recent Consumer Goods Technology social media post calling for input on how companies are addressing the immediate need to move beyond traditional TPM, I was struck by the alarmist tone in an industry that has been trying to address the trade investment paradox for years.
The truth is that in the chase for elusive profitability, we have overcomplicated trade promotion management and optimization with situation-specific spreadsheets, manual intensive processes, costly software customizations, and ongoing consultative relationships. The result may be incremental progress - if we are lucky - but more often companies never see measurable results from these initiatives and abandon difficult to sustain practices in favor of doing what they did the year before with the same or even worse results.
With the realization that trade promotion spending will remain a significant investment of a CPG company's sales and marketing budget, innovation that leads to quantifiable improvement both in process efficiency and in revenue generation needs to be built on 4 key principles:
Simplicity – make the complex, simple. Easy to implement. Easy to use. Easy to adjust.
Sustainability – evolve with the company and industry. Address today's challenges with an eye toward tomorrow.
Repeatability – trade in the mundane and manual in favor of integrated systems, automated intelligence and predictable outcomes.
Measurability – know what you did, how it worked, what you could do differently, and what would be the results in real-time
To build a trade marketing program around these principles means organizationally prioritizing these key mindset changes.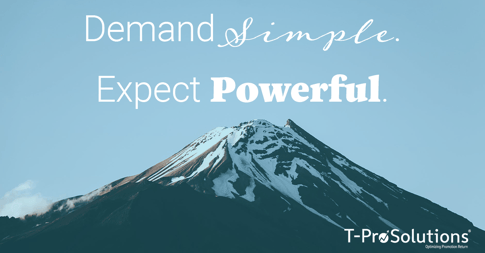 Analytics Can be for Everyone

While sophisticated data visualizations and custom modeling is the work of qualified data scientists, putting analytical insight through post-event analysis into the hands of your teams to make better decisions does not
require analytical expertise. Through a Trade Promotion Optimization (TPO) solution that should automate the
data harmonization and post-event analysis of your promotional performance, your trade marketing, sales and finance teams can have immediate access to quantified results. Not only can these analytics provide easy insight into the past, but your TPO solution should also automate the generation of historical and predictive lift coefficients to guide the analytical approach to your customer planning without adding complexity for your sales planning
team's processes.

Integration is More Important than Customization

Often where companies fail to move beyond the capabilities of their trade promotion management system is in the perception that taking the next step needs to be customized to meet their company's unique needs and processes. This often results in momentum at the start of the project that never comes to fruition because not all needs can be met. Furthermore, even when a custom project does launch, maintaining and enhancing the solution becomes an arduous task leading to poor adoption and continuity. Instead, companies need to focus on the seamless integration between their TPM solution and their TPO solution. The ability of these systems to bidirectionally share data eliminates much of the redundant entry and poor data management obstacles. This means that your teams can move beyond technology challenges to focus on using the TPO solution's capabilities to drive better business results. Furthermore, putting the integration and product enhancement responsibility on your solution partner infuses industry best practices with your organization's current processes to collectively and regularly improve.

Demand Simple. Expect Powerful.

A TPR is a TPR. An ad is an ad. A display is a display. These key tactics of trade marketing do not change. We know that the challenge of building a revenue generating, sustainable trade promotions program is determining the tactical mix that provides optimal results while also meeting retail partner realities. With this in mind, your TPO solution must make the creation of events and plans, the calculation of historical and predictive KPIs, and the reporting of planned and executed performance easy for your teams to access, execute and share. While the process should be simple, the outcomes should be powerful enough to make an impact. Is the data accurate? Can you compare multiple events or plans? Can you show your retail partner the advantages of shifting promotional strategy? Do you have the intelligence to build a better revenue growth management strategy for your business? Can you easily optimize an event or plan within constraints to align with the revenue, profit or volume objectives of the organization and your retail partners?

Combining simple usability for the user with powerful insight and predictability for the business results in a proven path to overcoming stagnant trade promotion management practices.

The Real Call to Action

The call to action by CGT to collect best practices and priorities for companies is timely as companies continue to struggle with making their trade investment the revenue growth contributor that it is intended to be. That said, we must be careful that we do not overcomplicate the potential for change to a point where actions with quantifiable impact are perceived as too good to be true leaving companies to fill gaps with unnecessary customizations and costly status quo thinking. Instead, the industry must take a "test us", not "trust us", approach to simplifying processes while delivering meaningful returns. Only then can companies innovate beyond transactional trade promotion management to be more competitive, more intelligent, more agile and ultimately more profitable.